Finding a place that serves delicious burgers in Barking can be pretty challenging, however, since our team loves burgers so much we managed to locate four incredible restaurants that not only have plain burgers on their menu – they have super tasty gourmet options that are worth trying!
And today, we are going to share these places with you so you know exactly where to go next!
4 Of The Best Burger Places In Barking According To Our Team!
Cristina's Steak
First place on our list is an incredible steakhouse that offers delicious juicy steaks and, of course, tasty burgers that you are going to love! The interior is relaxed and rustic with wooden chairs, wooden floors, and wooden tables.
Of course, we will focus on their burgers rather than their steaks – but keep in mind that they really are tasty so if you are a meat lover, you will really enjoy them.
We highly recommend the Cristina's Smashed Burger (two beef patties, American cheese, served with homemade fries), The Mess Burger (beef patty, Mac 'n' cheese, BBQ smoked brisket, homemade fries), and the Crispy Deep Fried Cornflake Chicken Burger (buttermilk deep-fried chicken, lettuce, slaw, homemade fries)!
If you do not eat meat then go for the Crispy Veggie-Eddie Burger (with patty made from butternut squash, sweet potatoes and onions, goats cheese, lettuce, served with homemade fries)!
Address: 8-10 North St, Barking IG11 8AW
Grilago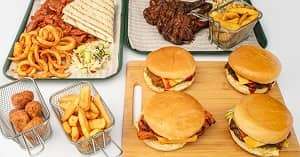 Next on our list is Grilago – a lovely little restaurant with simple decor and an impressive menu featuring delicious starters, a lot of traditional Turkish charcoal-grilled meat, doners, and, of course, burgers! We highly recommend this place for a quick lunch or dinner after work so you can unwind by enjoying a delicious burger and your favourite drink!
Our favourite burgers are the Doner Burger (with spicy lamb, sauteed onions, lettuce, garlic sauce, burger sauce, mayonnaise, and American cheese), the Fried Chicken Burger (deep-fried chicken fillet, cheese, lettuce, homemade mayonnaise, chili sauce), and the Buffalo Burger (beef patty, a special paprika aioli, cheese, Buffalo Sauce)!
They also have quite a few options for vegetarians and vegans – for example, the Beans Burger (vegetables and beans mixed with spices, lettuce, melted American cheese, a special paprika aioli, tomato sauce, burger sauce, mayonnaise, lettuce, and American cheese)!
Address: 130 Fanshawe Ave, Barking IG11 8RQ
Big Moe's Diner
Next on our list, we have Big Moe's Diner – an American-themed diner that is absolutely incredible. They really recreated that authentic 50s-style that all diners in America used to have – they even have a jukebox, classic red leather booths, and neon signs! It's a super popular place and you most likely have already been there. Our team loves visiting because of the delicious food, the incredible atmosphere, and the interior!
Starters include classic American comfort foods like Mac 'n' Cheese Bites, Nachos, Barbeque Chicken Strips. If you are vegan – don't worry, they have delicious Vegan Nachos (with hot jalapenos, Mexican salsa, guacamole, vegan sour cream, chives, melted vegan cheese, red onions) and plenty of other options!
When it comes to their burgers, they have incredible options with beef patties, chicken, and even vegetables for all vegetarians and vegans out there.
If you enjoy beef patties, go for The Chilli Crunch Burger (beef patty, lettuce, special chili relish, house sauce, jalapeno peppers, crispy fried onions, two layers of crisps), the Cheesy Burger (beef patty, Monterey Jack Cheese, Mac 'N' Cheese bites, lettuce, homemade house sauce), or the Big Moe's Diner-mite Burger (beef patty, chicken rashers, cajun onion rings, BBQ sauce, house sauce, fried onions, tomato, lettuce, American Monterey Jack Cheese)!
If you prefer chicken, order the Buffalo Chicken Burger (deep-fried chicken breast, Buffalo sauce, mayo, lettuce, coleslaw), the Texan Strip Burger (chicken strips, lettuce, onion, mayo), or The Tandoori Burger (chicken breast fillet seasoned with traditional Indian spices, tomato, onion, lettuce, tandoori mayo)!
Address: 3 Jenkins Ln, Barking IG11 0AD
Popeye's Peri-Peri Barking
And last on our list, we have a takeout restaurant offering delicious American comfort food including burgers you have to try! This place is not that popular which is why we like to refer to it as our hidden gem, however, we couldn't make a list with all of our favourite burger places in Barking and not include Popeye's Peri-Peri!
They have a delicious Chicken Burger, Cheese Burger, Peri Prei Burger, Chicken Strips Burger, and even a Fish Burger.
Address: 68 Longbridge Rd, Barking IG11 8SF