Check out our team's favourite restaurants and enjoy the most delicious burgers in Biggin Hill.
Our esteemed colleagues have compiled a list of the top four establishments for indulging in the savory delight of burgers within the vicinity of Biggin Hill.
The Aperfield Inn
First on our list is The Aperfield Inn – one of the most beautiful pubs in the area. The interior has a rustic style – and they have a garden. Their menu is impressive and the staff is very friendly. You will feel welcomed the second you walk into the restaurant.
They offer delicious steaks, burgers, salads, pizzas, pies, and other pub classics.
Our favourite burger from their menu is the Signature Burger which has a beef patty, maple-glazed pulled beef, bacon, Cheddar cheese sauce, red onion, and mayo. It's served with homemade onion rings.
Their plant-based burger is also really good so if you don't eat meat – don't worry. It has a plant-based patty, tomato, red onion, lettuce, burger relish, and is served with fries, however, you can switch the fries for a delicious salad.
Address: Kent, 311 Main Rd, Biggin Hill, Westerham TN16 2HN
The Old Jail
Next on our list is a family-run stunning pub – The Old Jail. It has a country feel to it, the interior is rustic and casual yet very cozy and welcoming. The food is incredible and they also have an impressive drinks menu.
They offer pasta, pizza, burgers, skillets, steaks, and fish and chips.
Of course, we will focus on their burgers today but keep in mind that everything else on their menu is worth a try.
We recommend their Old Jail Steak Burger
(with lettuce, tomato, gherkins, red onion, fries) and the Buffalo Chicken and Avocado Burger (with lettuce, tomato, gherkins, red onion, and fries).
Address: Jail Ln, Biggin Hill, Westerham TN16 3AX
The Black Horse
Another favourite pub of ours in Biggin Hill that you must visit is The Black Horse. The service is excellent, the menu is great, the interior is lovely, and the staff is welcoming.
They also offer unique beers, ciders, vodkas, cocktails, and whiskey.
Aside from delicious burgers, they also serve fish & chips as well as excellent Indian food such as Chicken Tikka Masala, Chicken Jalfrezzi, and Lamb Rogan Gosh.
Address: 123 Main Rd, Biggin Hill, Westerham TN16 3DX
Flames Of Biggin Hill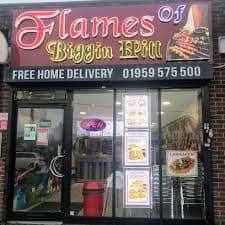 Next on our list is an authentic Turkish kebab takeaway spot that also offers delicious burgers that are worth trying – Flames Of Biggin Hill. This place is perfect when you are expecting guests or you just want a nice burger to enjoy at home.
We love their Chicken Fillet Burger, the Special Burger 2 (with three 1/4 Pounder patties, cheese, egg, onion rings, mushrooms), and their Special Burger 1 (with beef patty, doner meat, cheese). You can add any toppings to your burger depending on your preferences – from lettuce, onions, red cabbage, and white cabbage, to any sauces, mushrooms, extra cheese, and an egg.
We also recommend you leave room for a dessert because their Turkish Baklava is excellent.
Address: 160 Main Rd, Biggin Hill, Westerham TN16 3BA