Check out which restaurants in Covent Garden offer the most delicious burgers so that you know exactly where to go when you want a juicy gourmet burger.
Our esteemed colleagues have compiled a list of four most excellent establishments where one might sate their appetite for a delectable burger in the esteemed district of Covent Garden.
Truffle Burger
Truffle Burger is an excellent burger restaurant that we have previously talked about because they have a few locations in London. But since they also have one in Covent Garden, we couldn't skip featuring them on today's list too – because we are certain you will fall in love with their burgers.
Believe it or not, if you haven't visited this place before, their menu consists of only three burgers and a few sides – our favourite is the truffle fries with parmesan.
Their Truffle Burger is very popular – it comes with a beef patty, bacon, cheese, fig jam, onion, and their signature truffle mayo. We also really enjoy their Cheeseburger (with 90-day aged beef patty, special truffle burger sauce, pickles, lettuce, and cheese. And if you don't eat meat, they also have an option for you – the Veggie truffle burger (with plant-based patty, smoked cheese, fig jam, onion, and truffle mayo).
Address: 35 Earlham St, London WC2H 9LD
Maxwell's Bar & Grill
Next on our list is Maxwell's Bar & Grill – a stunning American-style restaurant with a beautiful interior that resembles classic American diners, and most importantly, an impressive menu and delicious food.
Our favourite burgers that we recommend you try are Maxwell's Oldtimer (beef patty, lettuce, tomato, red onion, pickle, burger sauce), the Piggy Back (slow-cooked BBQ pulled pork, grilled maple-glazed bacon, American cheese, BBQ sauce, pickles), the Buffalo Hot Chicken (fried chicken breast, Frank's Red Hot sauce, American cheese,
lettuce, ranch dressing, pickles), the BBQ Smokehouse (beef patty, Applewood smoked cheddar cheese, fried onion, BBQ sauce, lettuce, pickle), and the Big Shot (two beef patties, bacon, American cheese, cheddar
cheese, potato hash brown, lettuce, grilled onions, mustard, burger sauce, bacon gravy).
Address: 34 King St, London WC2E 8JG
Gordon Ramsay Street Burger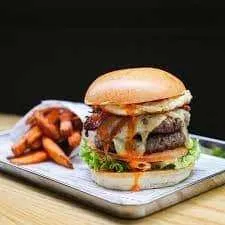 As you all know, our team is a huge fan of Gordon Ramsay and all of his restaurants so it should be a surprise that one of our favourites burger places in Covent Garden is his burger restaurant – Gordon Ramsay Street Burger.
We recommend the Hell's Kitchen Burger (beef patty, jalapenos, salsa, smoked Sriracha sauce, cheese), the O.G.R. Burger (beef patty, smoked cheese, house relish, salad), the J.F.C. Burger (fried chicken + chilli-spiced fried chicken, hash brown, lettuce, cheese, special sauce), and the Next Level Burger (two beef patties, American cheese, red onion, sriracha mayonnaise).
Address: 13-14 Maiden Ln, London WC2E 7NE
Joe Allen
Joe Allen is an incredible restaurant that first opened in 1977 – and no matter how many times they renovated the place, they still kept the original idea – a New York-style brasserie offering American food. We love this place and we think that it has the potential to become your new favourite restaurant due to the atmosphere, the interior, and the delicious food.
They are known for having a burger that is off-the-menu – so it's supposed to be a secret that only regulars know about. Over the past few years, this same burger became very popular and even though you still can't find it on the menu, you can easily order it – and we highly recommend you do so because it's absolutely life-changing. We won't get into details about what it includes because we want it to be a surprise for you.
Address: 2 Burleigh St, London WC2E 7PX