Check out our team's favourite restaurants that offer the most delicious burgers and enjoy a great meal in Crystal Palace.
We have a list of four most exquisite establishments to indulge in a delectable burger feast in the esteemed district of Crystal Palace. Allow us to share our refined tastes with you.
Roti Brothers
First on our list is Roti Brothers – a lovely casual burger place which we recommend you visit because you will be impressed by how tasty they are.
We love the Korean Style Fried Chicken Burger (Korean-style fried chicken, coriander and chilli coleslaw, pickles, spicy chilli sauce), the Devilled Dirty Bros (beef patty, BBQ chilli sauce, spiced garlic mayo, lettuce, tomato, pickles, red onions, Mexican jalapeños, American cheese), the Marinated Buttermilk Buffalo Chicken Burger (+ sweet chilli glaze, pesto, chimichurri sauce, lettuce), the Cuatro Quesos (beef patty, Melted Stilton, Mozzarella cheese, Monterey Jack, American cheese, lettuce, caramelised red onions, spiced garlic mayo), and the Roti Bros Signature Cheeseburger (beef patty, burger sauce, lettuce, tomato, pickle, balsamic red onions, American cheese).
Address: Victory Pl, London SE19 3RW
The White Hart
The White Hart is an amazing pub – it's small and casual, with a beautiful interior, outdoor sitting area, great service, and delicious food including burgers.
You can never go wrong with grabbing their Classic Cheese (beef patty made, smoked Cheddar cheese, house burger sauce, lettuce), the It's All Gravy (beef patty, Cheddar, smoked bacon, beef dripping gravy), and the Posh Pollo (fried chicken, avocado, smoked bacon, smoked Cheddar cheese).
For dessert, we highly recommend their Belgian Chocolate Brownie.
Address: 96 Church Rd, Greater, London SE19 2EZ
Westow Tap
Westow Tap is another great pub that is trendy and popular – the interior is beautiful and rustic with exposed brick walls, they have a garden, an impressive drinks menu where you will find craft beers plus an equally impressive food menu packed with gourmet delicious burgers.
We usually order their Crafty Fried Chicken Burger (+ BBQ sauce, cheese, lettuce, homemade mayo, pickles), the BBQ Pulled Pork Burger (+ beef patty, cheese, onions, pickles, homemade sauce), or the Buffalo Fried Chicken Burger (+ lettuce, mayo, pickles, Buffalo sauce).
Address: 23 Westow Hill, Norwood, London SE19 1TQ
The Sparrowhawk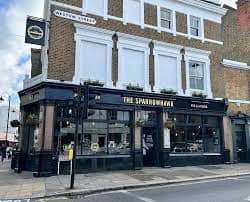 The Sparrowhawk is our absolute favourite pub in Crystal Palace because their service is excellent, the staff is always friendly, the food is amazing, and the interior is very cosy and casual.
But let's focus on the star of the show – their divine burgers that you have to try. We highly recommend their Bourbon BB King (bacon, cheese, onion jam, onion rings, bourbon BBQ sauce, burger sauce, ketchup, iceberg, onion, gherkin, fries), the Angry Hash (cheese, hash brown, Hot sauce, burger sauce, ketchup, iceberg, onion, gherkin, fries, BBQ sauce), and the Low & Slow (BBQ beef burnt ends, bacon, jalapeños, cheese, sweet & sour onion, ketchup, iceberg, onion, gherkin, fries, BBQ sauce).
As you can see, their burgers do not contain protein – because you choose whether you want a beef patty, buttermilk-coated chicken, or grilled chicken.
Address: 2 Westow Hill, London SE19 1RX