Are you looking for the best Italian restaurants located in Redhill because you are craving that authentic delicious Italian cuisine? Then check out our list where we have shared all of our favourite Italian restaurants in the area!
4 Of The Best Italian Restaurants In Redhill That You Should Visit
Prezzo
One amazing Italian restaurant that we have previously talked about a few times is Prezzo – they have locations all over London but, of course, we will focus on the one in Redhill. We really love their menu and their food as well as the service and the venue – it's spacious, bright, and chic.
When it comes to their starters, we recommend their Calamari, the Crispy Fried Mozzarella, the Garlic Bread with Balsamic Onions & Mozzarella, and the Beef Ragu Arancini.
When it comes to their main dishes, they have pasta, risotto, and amazing pizzas. We highly recommend the Penne Alla Rusticana (tomato sauce, chicken, pancetta, peppers), the Crab & Lobster Ravioli, the Spaghetti Bolognese, and the Chicken Alfredo Tagliatelle (creamy sauce, chicken, roasted peppers, sun-dried tomatoes, and garlic).
Address: 33 London Rd, Redhill RH1 1NJ
Casa Zilli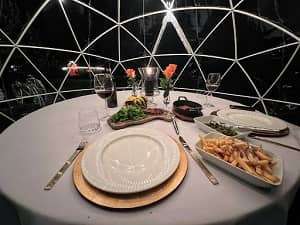 If you are a fan of Italian food and you live in Redhill then you have most likely heard of Casa Zilli – and perhaps have visited it. It's a newer restaurant – it opened in 2020 but it quickly became popular and a favourite of our team.
What is very unique and interesting about this restaurant is that they have outdoor heated igloos – yes, igloos. In order to be seated there, you must make a reservation in advance so keep that in mind. These igloos are private and perfect for a luxurious romantic dinner with your partner.
Now, when it comes to their menu, we do recommend starting off with their Bruschetta, the Lamb Skewers, the Burrata Cheese, or the Ravioli filled with Buffalo Ricotta, Spinach with Butter and Sage Sauce.
When it comes to their main dishes, we love their Aged Scottish Beef Fillet (+ Pepper and Brandy Sauce, Italian Parmesan Chips), the Lobster Ravioli, the Spaghetti Frutti Di Mare, the Spaghetti Vongole, and the Wild Boar Ravioli (+ Creamy Mushroom Truffle Sauce).
Address: Little Common Ln, Bletchingley, Redhill RH1 4QF
Pizza Project Merstham
If you are looking for a more casual and relaxed Italian restaurant then Pizza Project Merstham is the place for you. Yes, they do offer pizzas – and might we add that they are delicious and authentic Italian pizzas!
We highly recommend this spot for lunch – and they even have a special lunch menu.
Our recommendations are the Portabella Pizza, the Napoletana Pizza, the Napoli Pizza, and the Quattro Formaggi.
Address: 2 High St, Merstham, Redhill RH1 3EA
The Wood Fired Larder
And next on our list is a hidden gem in Redhill that we recently discovered – The Wood Fired Larder. It's not a restaurant but a food truck with a sitting area next to the truck. We like how casual the whole concept is as well as how delicious the food is.
Mondays to Wednesdays, they serve a selection of freshly prepared toasted panini, along with their usual menu.
From Thursdays to Sundays, they serve a selection of freshly prepared Wood Fired Pizzas, along with their usual menu.
But what does their usual menu include? Pizzas and sandwiches. Yes, this really is a casual spot but they really know what they are doing and their food is divine so why not visit them?
Address: Priory Farm Sandy Lane, Redhill RH1 4EJ