If you are a huge fan of burgers then this article is just for you because today our team is going to share the best burger places in Sidcup with you so you know exactly where to go!
The 4 Best Burger Places In Sidcup According To Our Team
Hello Burger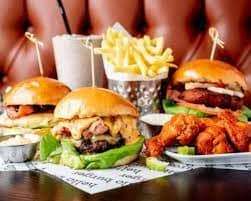 One of our favourite places in Sidcup for burgers is Hello Burger – an incredible little restaurant offering excellent service and delicious food you are going to love!
We always start off with their homemade Halloumi fries and Buffalo hot wings. And then we move on to the star of the show – the burgers! We love their Classic Burger (Beef patty, Lettuce, Tomato, Red Onion, homemade Burger Sauce), the Mexican Hot Hot (Beef patty, homemade Ranch Dressing, Chorizo, Chilli, Jalapeños, Spicy Cheese), the Double Bacon Cheeseburger (2 beef Patties, Bacon, Cheddar, homemade BBQ sauce), and the Camembert and Caramelised Onion Burger (Camembert, Caramelised Onions, Lettuce, Chicken or Beef patty).
They have plenty of other incredible options and we are certain you will find something you will love. If you don't eat meat or you are vegan – don't worry because they have veggie burgers as well! Our favourite is their Veggie Burger with homemade Sweet Potato patty, Halloumi Cheese, Lettuce, Sweet Chilli Sauce!
Address: 94 Station Rd, Sidcup DA15 7DU
What the Flip
The next place offering delicious burgers in Sidcup is What the Flip – another little restaurant with a fabulous menu!
They have burgers, wraps, fries, wings, and incredible milkshakes that go very well with everything on their menu.
We highly recommend their The Big Flip burger (either halloumi and beef patty or chicken, lettuce, tomato, homemade burger sauce) and the Triple Threat (3 patties, lettuce, tomato, homemade burger sauce). Of course, you can customize all of their burgers and add more toppings depending on your preferences – and we think that this is incredible!
If you enjoy milkshakes then get either a Coffee or a Salted Caramel one – they are our favourite!
Address: 80 St James Way, Sidcup DA14 5HF
Star at Sidcup Place
Next on our list, we have a casual pub that is super stylish and well-decorated. We love how modern and beautifully decorated the place is.
Of course, we also love how delicious their food is and how diverse their menu is. Their dishes are a mix of Turkish, American, British, Greek, and Indian cuisine so you will definitely be able to find something you will love!
When it comes to their burgers, they have focused on quality over quantity. They have 4 options – House Bacon & Cheese with homemade burger sauce, Korean-Style Fried BBQ Chicken with onions, Wagyu Beef with homemade burger sauce, and a Veggie Burger!
Aside from their burgers, we also really enjoy the Crayfish Linguine (Crayfish tails, pasta sauce, pasta, peppers, Italian hard cheese), the Home-Made Lamb Kebab (served with garlic flatbreads, a salad with Feta cheese, honey, pomegranate seeds, chilli sauce), the Rotisserie Chicken Tikka Masala (Pulled rotisserie chicken, tomato and onion sauce, rice, naan bread, a poppadum, dips), and the Beef & Ale Pie!
Address: Chislehurst Rd, Sidcup DA14 6BF
The Kitchen
The Kitchen is a hidden gem in Sidcup – not many people know about this place and we are so happy we discovered it because they offer incredible food. This is why we decided to share them with you!
They have an All Day Breakfast menu with an English Breakfast, Eggs, Bacon and fried eggs bagel, sandwiches, ciabatta, panini. They also have a Lunch Menu with pasta, salads, fish dishes, Shepherds pie, and plenty of other incredible options.
They don't have a lot of burgers on their menu – just two classic options, a Beef Burger and a Chicken Burger, however, they are so delicious that we couldn't miss featuring them in this list – after all, you are looking for a place that offers quality – not quantity!
The Beef Burger is served with fries and it can be made with bacon and cheese as well as the Chicken Burger!
Address: 57 High St, Sidcup DA14 6ED