Looking for the best Indian restaurants in Ilford that you can visit? Well, since we know that you really love Indian cuisine and you are looking for that authentic flavour of India, we decided to share some of our favourite Indian restaurants in the area.
Our team is known for going out to restaurants and trying out different foods and cuisines, and we must admit that Indian food is one of our favourite!
We have taken it upon ourselves to recommend to you the finest Indian dining establishments in the town of Ilford, based on the preferences of our esteemed team.
Shri Bheemas Indian Restaurant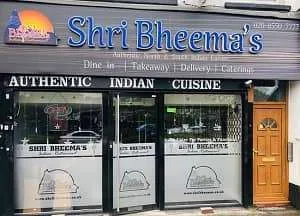 Starting off our list with a pretty well-known Indian restaurant – Shri Bheemas. Their food is delicious and you won't regret visiting this place which is why we recommend it so much!
Their menu is large with a lot of starters, main dishes, street food, biryani, rice bowls, and vegetarian main dishes. There really is something for everyone!
First, let's focus on the starters. We highly recommend you try their Methu Vadai (Fried savoury doughnuts, chutney, sambar), the Chilli Paneer (cottage cheese, mild chilli sauce, spices), their Drumbs of Heaven (marinated chicken wings marinated, chilli sauce), and their Lamb Kothu Parotta! Of course, there are so many other options to try!
When it comes to their main dishes, we really enjoy their Spicy Prawn Curry and the Punjabi Saagwala!
Address: 20 Woodford Ave, Gants Hill, Ilford IG5 6UF
Vijay's Virasat Restaurant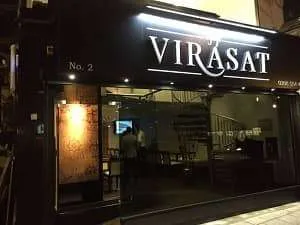 Next on our list is the Vijay's Virasat Restaurant – one of the best modern Indian restaurants in Ilford you can visit!
We highly recommend ordering their Lamb Samosa and Soya Chilli Prawns as starters. Of course, they also offer Vegetarian Starters which are pretty unique – for example, a Crispy Kale Chaat (fried kale coated in spices, onion, coriander and pomegranate, mint, tamarind chutney) and the Garlic Mari Mogo (fried cassava, black pepper, chilli, garlic).
When it comes to the main dishes section on the menu, they have Vegetarian dishes, Lamb Dishes, Chicken Dishes as well as seafood, naans, and biriyani.
Our team really enjoys the Special Biriyani (lamb, chicken, prawn, spiced basmati rice), the Chilli Naan, Lamb Keema with Peas (lamb, ginger, coriander and green peas).
Address: Greengate Parade, Horns Rd, Newbury Park, Ilford IG2 6BE
Caraway
This beautiful modern Indian restaurant has an amazing venue, however, we must focus on their food because it truly is incredible! The chefs make sure to pay attention to even the smallest details when preparing the food!
Just like the other restaurants we spoke about, Caraway offers a lot of starters – vegetarian and non-vegetarian. We really like the Mongolian Chicken (chicken marinated in crushed peanuts and onions) and the Mint and Mango Paneer Tikka.
For your main dish, we highly recommend their Chooza Khas Makhani (butter chicken, chicken tikka, tomato sauce) as well as their Saag Gosht (lamb, spinach sauce).
Address: 513-519 Cranbrook Rd, Gants Hill, Ilford IG2 6HA
Muziris South Indian Restaurant
Last on our list is the Muziris South Indian Restaurant where you can find authentic South Indian food prepared with a variety of spices that bring the traditional Indian taste to your plate!
We really enjoy the Prawn Kothu which is a delicacy in Tamilnadu as well as their Egg Biriyani. You really can't go wrong with ordering the Beef Curry, the Paper Masala Roast, and the Hot Chutney Dosa.
Another favourite of ours is their Malabar Chicken Masala and the Kappa Biriyani (Beef) which is a chef's special!
Address: 751, 753 High Rd, Seven Kings, Ilford IG3 8RN