Looking for the best Mediterranean restaurants in Hackney? Well, look no further because our team has gathered all of their favourite places in the area and today – we will share them with you so you know exactly where to go!
The 4 Best Mediterranean Restaurants In Hackney You Must Visit
Chambers Restaurant
The First Mediterranean restaurant on our list is Chambers – an incredible place with delicious food and friendly staff providing excellent service. Their menu combines the most popular dishes from Greek, Turkish, and Italian cuisine.
We highly recommend their Tzatziki (served with pitta bread), the Halloumi Salad (with Tomato, Cucumber, Olives, Mixed Leaves), the Borek (pastry filled with feta cheese and spinach) as well as the Falafel – these are our favourite starters!
Next on their menu, you will find pizza, delicious pasta, seafood dishes as well as wraps, meat main dishes, and a few vegetarian dishes. We love all of their pasta options, the Seabass Fillet Marinated, the Kofte Wrap (Lamb Kofte With Tomatoes, Red Onion, Mixed Leaves), and the Pork Chops (served with mash potatoes and green vegetables)!
We are certain you will fall in love with their diverse menu and you will find your favourite Mediterranean dish there!
Address: 132 Lauriston Rd, Victoria Park Rd, London E9 7LH
Stone Cave
Next on our list is our favourite Turkish restaurant in Hackney called Stone Cave. The first thing we want to discuss is the interior of this place because it's super impressive. It literally looks like a cave so you get the feeling you are dining in a cave which, in our opinion, is super interesting and it gives every customer a unique experience.
Of course, another very impressive thing about this restaurant is the menu and how delicious their food is! They have traditional Turkish hot and cold starters – from hummus and Cacik (cucumber, garlic, yogurt, mint) to Borek (pastry filled with spinach, feta cheese, served with sweet chili dip), and Falafel!
When it comes to their main dishes, we highly recommend their Charcoal grills – the Chicken Shish Kebab, the Lamb Beyti (minced lamb, red pepper, parsley, garlic, grilled on a skewer with rice, yogurt, tomato butter sauce), the Iskender Yayla Kebab (lamb, chicken, Adana, garlic, yogurt, tomato, butter sauce).
And finally – don't forget to order dessert – we love their homemade baklava served with cinnamon ice cream!
Address: 111 Kingsland High St, London E8 2PB
Souvlakiland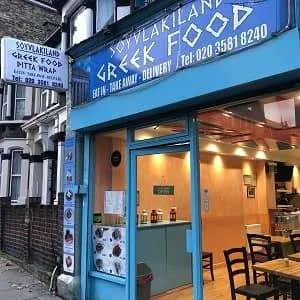 It wouldn't be a list featuring Mediterranean places if we didn't include a Greek restaurant, right? Since our team is a huge Greek cuisine lover we couldn't miss talking about our favourite Greek place in Hackney – Souvlakiland!
They serve traditional Greek street food – souvlaki! We love their menu and we highly recommend you go to Souvlakiland whenever you have time and you are craving delicious food!
Definitely order a Pork Skewer Souvlaki Wrap or a Chicken Skewer Souvlaki Wrap – they are our favourites!
If you are vegetarian then don't worry because they have options for you as well – the Vegetarian Halloumi Wrap (with chips, tzatziki, lettuce, tomato, onions, aubergine, peppers, halloumi, zucchini) and the Vegetarian Feta Wrap with feta cheese!
Address: 199A Homerton High St, London E9 6BB
OMBRA Bar & Restaurant
And the last restaurant on our list is Ombra -a pretty popular Italian place in Hackney that many love! The interior is modern and stylish – after all, the venue is a former art gallery!
But, of course, the most important aspect of a restaurant is the food – and we can state that Ombra offers delicious traditional dishes we all love! And what we love most about this place is that they make their own pasta!
Not only do they have incredible starters and main dishes but you will also find delicious Italian desserts – Panna Cotta with peaches, Ricotta Cheese Cake with strawberries, and homemade Tiramisu!
A few months ago they even opened their own shop where they sell their homemade pasta, pizza dough, sauces, Italian meat, and other tasty ingredients you can get to prepare your favourite Italian dish at home. We highly recommend their Ravioli with burrata cheese and truffles – they are super easy to make at home and very tasty!
Address: 1 Vyner St, Cambridge Heath, London E2 9DG