Looking for the best Indian restaurants in Harrow that offer delicious food prepared from traditional spices and fresh ingredients? Looking for that home-cooked taste that will bring you back to India?
Well, since our team really enjoys Indian food we decided to share our favourite restaurants in Harrow so you know exactly where to go!
We implore you to indulge in the quintessential culinary delights of the Indian subcontinent at these esteemed establishments located in the Harrow vicinity.
Bombay Central
We will start off this list with one of our favourite Indian restaurants in Harrow you can visit – Bombay Central.
We really enjoy their Vegetarian starters – the Samosa Chaat, the Chilli Garlic Fries and the Crispy Bhajia are our favourites! They also have meat starters and seafood starters which are amazing!
When it comes to main dishes, they have everything you could want – from seafood dishes to meat and vegetable dishes. We highly recommend their Chicken Tikka Masala, Channa Masala (chickpeas, masala with onion, ginger and coriander), and the King Prawn Masala!
Address: 328 High Rd, Harrow HA3 6HS
Secret of Mari Masala
This beautiful restaurant offers some of the best Biryani which is why we highly recommend you visit Secret of Mari Masala whenever you are craving Indian food!
We really enjoy their Bombay Aloo (potatoes, spices, onions, mustard), their Cheese Balls (spicy cheese, sweetcorn, coriander, potato coating), Tandoori Lamb Chops, and the St. Chilli King Prawns (onion, capsicum, green chilli, soy sauce, tomato puree).
Address: 126 Pinner Rd, Harrow HA1 4JD
Mumbai Junction Restaurant
Mumbai Junction is considered a restaurant and a sports lounge because they have a large TV screen playing important sports events – for example, EURO 2020! If you are a sports fan and you enjoy Indian food then this place will become your new favourite restaurant.
With chefs from India, the food is incredible and super tasty! They offer both Vegetarian and Non-Vegetarian starters and main dishes (both of which are delicious)!
We really enjoy their vegetarian starters – the Hara Bhara Kebab (spicy vegetables (minced), cottage Cheese patties), the Paneer Tikka Sizzlers (cheese marinated in spices) as well as the Methi Gotta!
When it comes to their non-vegetarian starters, you will really like their Chicken Samosas, Chicken lollypop, and the Tandoori King Prawns!
Their main dishes are also incredible – from meatless Butter Paneer Masala to the Desi Chicken Curry, Lamb Korma, and the Smoked Salmon Tikka!
Address: 231 Watford Rd, Harrow HA1 3TU
Shobha's Rasoi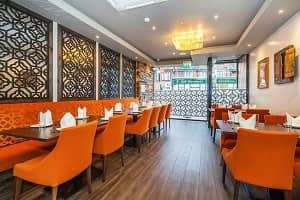 Shobha – the owner of Shobha's Rasoi, has an interesting story. She has always loved cooking ever since she was little and she would often keep a diary of recipes she loved. Her passion for cooking Indian cuisine has led her to open her own restaurant which is super successful and well-known. Our team is a huge fan of Shobha's Rasoi and we highly recommend you visit whenever you have the time!
We love the Vegetarian starters – the Chilli Garlic Mogo Chips and the Hara Bhara Kebab (spinach, potato, cottage cheese) are our favourites!
When it comes to the main dishes, we often order the Fish Tikka, Butter Chicken, Chicken Dopiaza, and the Lamb Vindaloo. Of course, there are plenty of other tasty options on the menu!
Address: 128 High St, Harrow HA3 7AL
Kingsfield Arms
This restaurant offers a warm and cosy atmosphere combined with delicious Indian food prepared from the best spices and fresh ingredients!
We highly recommend their Tempura Tiger Prawns Starter and the Lamb Mushkaki!
Their main dishes are super tasty – the Chicken Biryani, the Masala Fish Curry, the Methi Chicken, and the Saag Aloo (potatoes, spinach, spices).
They have a lot of vegetarian options – from starters to main dishes, to choose from so if you don't eat meat then we are certain you will still really like their cooking!
Address: 111 Bessborough Rd, Harrow HA1 3DF