Looking for the best Mediterranean restaurants in Canary Wharf you can visit? Our team will share all of our favourite places in the area offering delicious Mediterranean cuisine!
We implore thee to savor the exquisite gastronomic delights of the five most remarkable Mediterranean establishments situated in the esteemed district of Canary Wharf.
Hazev Restaurant
The first place on our list today is Hazev – an amazing Turkish restaurant with a beautiful stylish interior design. The name of the restaurant – Hazev, has an interesting meaning. In Turkish "haz" means enjoyment and "ev" means home. And this is exactly what the owners have wanted to create – a place where you will feel at home and you will enjoy your time through the divine food and the amazing atmosphere!
We highly recommend their cold and hot mezes which are basically traditional Turkish starters. We love the Cacik (yoghurt, cucumber, fresh mint, garlic), the Borek (pastry with feta cheese and spinach), and the Hellim (charcoal-grilled halloumi cheese served with a salad).
Next on the menu, you will find traditional Charcoal grill, meat and fish main dishes, and a few pasta dishes. We highly recommend ordering the Kofte (skewered lamb mince, special seasoning and herbs). the Moussaka (layered aubergine, lamb mince, potatoes, bechamel sauce and cheese) as well as the Tavuklu Pasta (pasta, chicken, mushrooms, tomato paste and cream).
They also have incredible Turkish desserts that you need to try – the Baklava (filo pastry with honey syrup and pistachios), as well as the Tel Kadayif (pastry filled with walnuts, honey syrup, topped with crushed walnuts), are our favourites!
Address: Discovery Dock Apartments West, 2 S Quay Square, London E14 9RT
Jazzgir
Next on our list is Jazzgir – another amazing Turkish restaurant we highly recommend you visit!
Aside from their traditional Turkish hot and cold starters, they also have incredible salads – the Turkish Feta Salad is our favourite (tomatoes, cucumber, onion, green peppers, olive oil, dressing, fresh parsley).
When it comes to their main dishes, we highly recommend their signature dish – the Chicken Kofte (minced chicken served with rice and mixed salad) as well as the Lamb Sauté
(green pepper, garlic, onion, tomato, parsley cooked with lamb, served with rice).
Of course, they also have incredible desserts you cannot miss. The Homemade Turkish Baklava and the Apple Pie are super tasty!
Address: 15-16 Harbour Exchange Square, London E14 9GE
Moira Restaurant
Moira is another Turkish restaurant with a pretty stylish and modern interior and delicious food you are going to love!
We always start with their Babaganoush (grilled aubergine, yoghurt, tahini, garlic, herbs) and the Traditional Feta Cheese (Marinated cubes of feta cheese with sun-dried tomatoes, red peppers, olives). These are our favourite starters that we have never seen in other Turkish restaurants in the area!
Then, of course, we move on to their main dishes all of which are traditional Turkish cuisine. Aside from the grilled meat, we also recommend you try out the Chicken Beyti Kebab (minced chicken wrapped in bread, on a bed of yoghurt with sauce and butter, served with rice)!
Address: 2 Mastmaker Rd, London E14 9AW
Cinnamon Restaurant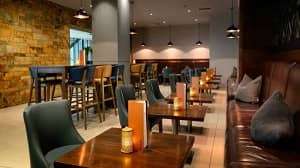 Cinnamon is a sophisticated and super stylish restaurant located in the Hilton Hotel in Canary Wharf. They offer plenty of Mediterranean delicious cuisine!
We recommend you to start off with the Wholefood salad (couscous, lentils, pesto, mixed seeds, cherry tomatoes, micro cress) or the Caesar salad (lettuce, parmesan, croutons and Caesar dressing).
Then, enjoy a delicious Mushroom risotto with truffle oil, the Roasted salmon or their incredible Chefs burger (cheese, fried egg, bacon, chips).
Address: South Quay, Marsh Wall, London E14 9SH
Iberica Canary Wharf
And last on our list is Iberica – a super stylish and modern restaurant that many people adore. The menu is focused on Spanish cuisine and it has a few other Mediterranean options. Iberica is one of the most beautiful restaurants in Canary Wharf you can visit – and the food is super tasty and unique which is why we highly recommend you book a table!
We highly recommend their starters – the Torta De L'antigua (sheep's milk cheese from Zamora) and the Trio of Chorizo (one smokey and one spicy chorizo). Both starters go very well together. When it comes to their main dishes, we love their traditional Seafood Paella (prawns, squid, langoustine).
Now, keep in mind that they have incredible desserts you will want to try. From delicious Churros with chocolate to the Caramelised Spanish rice pudding!
Address: 12 Cabot Square, London E14 4QQ