Mediterranean cuisine is so diverse which is why we love it so much! There really is something for everyones' taste – no matter if you are vegan, vegetarian, or you enjoy eating meat.
Since Mediterranean food is perfect for the summer since it's light and easily digestable, we decided to share all of our favourite Mediterranean restaurants in Ealing with you!
The 5 Best Mediterranean Restaurants In Ealing According To Our Team
Atlantis Greek Restaurant
Atlantis is a wonderful little restaurant offering traditional Greek cuisine. They first opened in 1993 and have been delivering delicious authentic food ever since!
When you do visit Atlantis, you need to order a starter – the Taramasalata (smoked cod roe with oil, lemon juice and onion), the Tzatziki (Greek yoghurt mixed with cucumber, mint and garlic) as well as the Spanakopita (pastry with feta cheese and spinach) are incredible!
Next, we highly recommend the Kleftiko (lamb on the bone roasted with Greek spices and herbs) and the Kotopoulo Lemonato (chicken with cream, lemons and white wine).
Address: 86 Pitshanger Ln, London W5 1QX
Wine & Mousaka
Next on our list, we have another amazing Greek restaurant offering not only Greek cuisine but also Cypriot. This place is pretty popular and many people love going there. It's one of our favourite Mediterranean restaurants in Ealing and we highly recommend you visit whenever you have time.
We definitely recommend you to start off with a nice Greek salad (cucumbers, tomatoes, pepper, onion, olives, feta cheese) then move on to the starters – we love the combination of Tzatziki and Haloumi!
Next, you need to try the traditional Cypriot dish – Souvlaki which is marinated meat cooked over charcoal, served with rice.
And, of course, leave room for dessert – Greek Yoghurt with Honey!
Address: 30 Haven Green, London W5 2NY
Pizza House Mediterranean Restaurant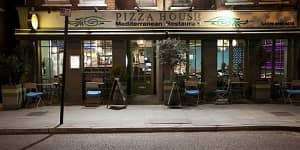 Next on our list is – Pizza House Mediterranean Restaurant, a beautiful place offering both Italian and Turkish cuisine! So you can either enjoy a delicious pizza and pasta or order a traditional Turkish charcoal-grilled skewer!
They have a mix of Turkish and Italian starters – from bruschetta and baked garlic dough served with marinara sauce to hummus and dolma (Turkish vine leaves stuffed with rice and spices).
The main dishes are also a mix of Turkish and Italian food. They have pizza, delicious pasta options and a few other traditional Italian main dishes as well as Turkish grill!
Address: 100 Pitshanger Ln, London W5 1QX
Piccola Italia Ealing
Fourth on our list is Piccola Italia which literally means "Small Italy". Of course, the name gives you a little hint of what to expect – a small and cosy restaurant that will transport you to Italy with their delicious traditional Italian dishes!
Whenever you do decide to visit Piccola Italia, we definitely recommend you try their pasta or risotto. For example, we love the Linguine Vongole (Linguine, clams, wine, garlic, cherry tomatoes, chilli), the Risotto ai Funghi (rice, mushrooms in a creamy sauce), and the Tortelloni All'Astice (pasta filled with lobster and crab).
Also, they have incredible pizzas as well as a few other traditional main dishes like Agnello al Forne (oven-baked lamb, cherry tomato sauce served with vegetables and potatoes).
Address: 21 The Green, London W5 5DA
Coda di Volpe Pizzeria
Last on our list is Coda di Volpe – an amazing Italian pizzeria offering other traditional dishes. Unfortunately, their menu is focused on pizzas and they do not serve pasta so keep that in mind.
Our team really enjoys this restaurant because, in our opinion, they make the best pizza in Ealing. They have incredible options – from their Salsiccia Pizza with mozzarella, sausages, cherry tomatoes, and caramelized onions to their La Volpe with tomato sauce, mozzarella, sausages, fresh spinach, fresh mushroom, garlic, extra virgin olive oil.
Address: 44 The Mall, London W5 3TJ