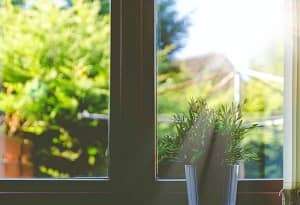 If you are looking for a great Christmas gift or you are obsessed with having clean windows yet you have to do this chore yourself – or reaching the exterior of your windows is a challenge, then we recommend you look into window cleaning robots because they are an incredible investment that will assist you with your cleaning chores.
There are a lot of brands and models on the market – some of which aren't worth it which is why our team decided to create a list where we will include the best window cleaning robots in 2022 that you can buy.
The 5 Best Window Cleaning Robots That Leave Excellent Results
– Gladwell Gecko Robotic Window Cleaner
First on our list is the Gladwell Gecko Robotic Window Cleaner – a lovely machine that sticks to the window with suction and uses microfiber pads for the cleaning.
We love that this robot cleaner is very effective, has cleaning modes, and has both automatic and manual control. The only downfall is that sometimes it leaves circular patterns behind.
This device is very small, and practical, achieves deep cleaned windows, and can detect the window edges very quickly.
The automatic cleaning mode is excellent but if you do want to take control, you can with the included remote and manual control.
In case the machine loses power and it's on the exterior of the windows, it can catch itself with the included safety rope.
– AlfaBot X7 Robot Window Cleaner
Another great device that is worth looking into is the AlfaBot X7 Robot Window Cleaner – it has an app and remote control, it has multiple safety measures to protect itself if it loses power, it can clean even the biggest window, and the best part is that it can not only clean windows but also tiles and hardwood floors.
This is one of the greatest window-cleaning robots and we highly recommend it to everyone that is looking towards investing in one.
– Mamibot W120-T Robotic Window Cleaner
The Mamibot W120-T Robotic Window Cleaner will leave your windows spotless – and it will do whatever you tell it to. It can be controlled via an app, a remote control, or the button on the device.
The shape of the pad is square so it can cover up to 99% of the surface – even the edges.
It does have safety features so your robot can be tracked. It has an anti-falling sensor, safety rope, and an UPS battery that adds another 20 minutes to the battery.
The most important part of using this robot is choosing the right cleaning solution because achieving streak-free windows depends on it.
– HOBOT-2S Robot Window Cleaner
If you want a robot that can clean your windows as well as other surfaces such as mirrors and tiles then get yourself the HOBOT-2S Robot Window Cleaner. It's great for removing dirt, dust, and all sorts of impurities which makes it perfect for cleaning tiles.
Overall, this is one of the greatest window-cleaning robots on the market in 2022.
– Wexbi Window Cleaning Robot
If you want a fast and effective option for cleaning your windows then get the Wexbi Window Cleaning Robot because it is indeed the robot that will clean your windows the quickest out of the rest on our list. It is able to clean a square meter in 3 minutes… yes, only 3 minutes.
It's very quiet, leaves excellent results, and the best part is that when it's done cleaning, it will return to the starting position.
We recommend you use this machine not only to clean your windows but also your bathroom walls because it's great for removing hard water stains as well as tables, floors, and kitchen counters.
The only downfall to this robot is the manual because it's a bit confusing but with a little patience, you will get it going.