As you probably know by now, our team's favourite food is… burgers. This is why they have visited every restaurant in Bedfont that does offer burgers – and today, they are going to share their absolute favourite spots that they recommend.
We humbly present to you the most superlative burger establishments in Bedfont as determined by our esteemed team's gastronomic adventures.
RFC
RFC – short for Royal Flame Chicken, is a fast food restaurant that has become one of our favourites due to how focused the staff is towards delivering the best food – using fresh ingredients and tasty juicy meat. If you are indeed craving a burger, you can't go wrong with RFC and what they have to offer you.
Enjoy a delicious Quarter Pounder, a Chicken Fillet Tower Burger, or a Veggie Burger depending on your preference – and also choose the toppings you want.
What else can you find on their menu? Ribs, wraps, and peri peri chicken.
Address: 412 Staines Rd, Feltham TW14 8BT
Just Burgers Plus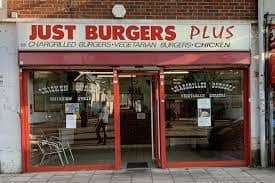 When you want a good burger in Bedfont, Just Burgers Plus is the place you go to. It was established in 1989 and they are very popular now.
Our favourites are their Garlic Burger (beef patty with an incredible garlic sauce), the Mexican Burger (beef patty, cheese, lettuce, raw onions, chillies, homemade chilli sauce), the Bronx Burger (beef patty, cheese, pepperoni, raw onions, American mustard, ketchup), and the Nashville Burger (beef patty, mushrooms, melted cheese, mayonnaise).
If you prefer chicken burgers then their Southside Fillet Burger (chicken, chilli sauce, onions, lettuce, cheese) and the Chicken Manhattan (with bacon, melted cheese, and mayonnaise) will become your new favourites.
All of their burgers also come with fries – a lot of fries!
Address: 525 Staines Rd, Feltham TW14 8BP
Bedfont Chicken And Pizza
A favourite casual restaurant of ours is Bedfont Chicken And Pizza. We recently found out about this place – and it's not the most popular, so we consider it a hidden gem due to the excellent food, great menu, and very friendly staff. We do recommend all of you visit if you love pizza, burgers, or wraps.
We really like their Quarter Pounder Burger (with a salad, sauce, cheese), the Chicken Fillet Burger (with mayo, salad) as well as their incredible Fish Fillet Burger (with salad, mayo).
Address: 497 Staines Rd, Feltham TW14 8BN
The Flame
And last but not least on our list is The Flame – a lovely small fast-food restaurant where you will find pizzas, wraps, peri peri chicken, salads, paninis, burgers, and more. And even though this place is considered a fast food spot, the food is definitely not fast food quality. In fact, everything on their menu is very well made and delicious, and they use great fresh ingredients.
We like their SMOKEY BBQ Gourmet Burger (Beef patty, Lettuce, Cheese, BBQ Sauce, Onions), the INFERNO Gourmet Burger (beef patty, Cheese, Lettuce, Chilli Sauce, Jalapenos), the Peri Peri Chicken DOUBLE STACKER Burger (two chicken fillets, Lettuce, Mayonnaise), and the HAWAIIAN Gourmet Burger (beef patty, Pineapple, Lettuce, Coleslaw, homemade special sauce).
Address: 150 Staines Rd, Feltham TW14 9ED