Are you a huge fan of Chinese cuisine? So are we! All traditional dishes are so tasty, unique, and diverse. This is why we decided that it's time to make a list featuring all of our favourite Chinese restaurants located in Bromley!
Top 4 Chinese Restaurants In Bromley According To Our Team
Sanxia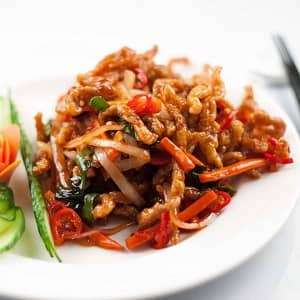 First on our list is Sanxia – a lovely little Chinese restaurant located in Bromley that we love visiting not only because of the delicious food but also because the staff is super friendly and they make you feel welcomed the second you walk in.
A typical order of ours usually looks something like this – we start off with Vegetarian Spring Rolls, Grilled Chicken Dumplings, Salt & Pepper Spare Ribs, or Sliced Pork with Crushed Garlic! Sometimes we also get a soup – either the Fish Head and Tofu Soup or the Winter Melon & Spare Ribs Soup – super delicious and unique options you won't find anywhere else!
Then we move on to the main dishes – all of which are incredible! We love the Kung Pao Chicken, the Spicy Shredded Pork (with mushrooms, Bamboo Shoots, and Cucumber), the Mao's Braised Pork (with spring onions and chilli), the Lobster with Crispy Noodles, the Beef in Black Bean Sauce with Green Pepper, and the Aromatic Spicy Lobster (with Chilli, Sichuan Peppercorn, Chinese Celery, Bamboo Shoots, Peanuts)!
If you don't eat meat then don't worry because they have plenty of Vegetable Main Dishes!
Address: 221 High St, Bromley BR1 1NZ
Peking Diner
The next Chinese restaurant on our list that we highly recommend you visit is Peking Diner – great food, amazing staff, and affordable prices!
We recommend you start off with their Seafood Mixed Hors D'Oeuvres
(Prawns in Breadcrumbs, Spicy Salt Prawns, Squid with Garlic & Chilli, Sesame Prawn on Toast, Crispy Seaweed) – £10.00, or with Mixed Hors D'Oeuvres (Ribs, Satay Chicken, Spring Rolls, Sesame Prawn on Toast, Spicy Chicken Wings) – £9.00. It's a great way to try out almost all of their starters without having to pay the full price! We also really enjoy their soups – especially the Sweetcorn Soup with Crab Meat!
When it comes to their main dishes – they have it all! We are certain you will be able to find your favourite Chinese dish. Our favourites are the Chicken with Thai Sweet Chilli Sauce, the Beef with Oyster Sauce, the Kung Po Chilli King Prawns, Fried Squid with Green Pepper and Black Bean Chilli Sauce, as well as the Roast Duck with Pineapple!
If you love noodles the definitely get the Crispy Noodles with Seafood or the Roast Duck with Soft Noodles!
Address: 71 Burnt Ash Ln, Bromley BR1 5AA
Treasure of China
Of course, we can't really make a list with our favourite Chinese restaurants in Bromley and not feature Treasure of China where you will find the most delicious Dim Sum Dumplings in the area!
Starters include delicious Soft Shell Crab, Sesame Prawn Toast, and Mussels in Black Bean Sauce as well as vegetarian options like the Mixed Vegetable Lettuce Wrap (seasonal vegetables, carrot, celery, served with a plum sauce)!
When it comes to their main dishes, we highly recommend the French Beans with Pork and Szechuan Chilli Sauce, the Pork Chop with Black Pepper Sauce, the Szechuan Spicy Pork in Hot Soup as well as the Chicken with Cashew Nuts!
Also, don't forget to order Dim Sum – we love the Prawn and Spinach Dumplings, the Chicken and Mushroom Dumplings as well as the Shanghai Pork Dumplings!
Address: 2 West St, Bromley BR1 1RF
Miso Noodle Bar
And last on our list, we have Miso Noodle Bar – the place to visit whenever you are craving noodles! This restaurant first opened in 1999 and they have never stopped offering delicious quality food prepared from the freshest ingredients!
On their menu, you will find dumplings, noodles in soup stock, wok-fried noodles, bento boxes, sauce-based noodles, salads, and rice dishes.
We love their Won Ton Noodles (with prawn and pork dumplings, cooked in soup stock), the Beef Steak Noodles (Wok-fried ho fun with steak), the Singapore Noodles (with shredded chicken, pork, shrimps, egg, sesame seeds and spices), the Roast Duck Noodles (with roast duck, Chinese leaves, beansprouts and duck sauce), and the King Prawn Lo Mein!
Address: 10 East St, Bromley BR1 1QX