Unfortunately, finding a good Chinese restaurant in Hornchurch isn't an easy task – and since we know how much you enjoy Chinese cuisine, we decided to gather all of our favourite places and share them with you today so you know exactly where to go next!
Top 4 Chinese Restaurants In Hornchurch According To Our Team
Mandarin Palace
First on our list is Mandarin Palace – probably the most popular Chinese restaurant in Hornchurch. It's a lovely little casual place offering delicious traditional food – from starters to main dishes!
We never skip their starters because they are incredible – from their Satay Chicken Skewers, Spicy Smoked Chicken, and Meat Spring Rolls to their Duck Pancake Rolls!
We highly recommend you order a Dim Sum – one of our favourite things on their menu. We enjoy their Prawn Dumplings and Shanghai Pork Dumplings!
When it comes to main dishes, they have a huge selection of your favourite Chinese dishes – King Prawns with Cashew Nuts, Crispy Aromatic Duck (with cucumber, spring onions, hoisin sauce, pancakes), Spicy Chicken with Garlic Sauce, Sweet and Sour Chicken Hong Kong Style, Beef with Pineapple, Lamb with Ginger and Spring Onions, and even Chow Mein!
Address: 197-201 High St, Hornchurch RM11 3XT
Welcome Inn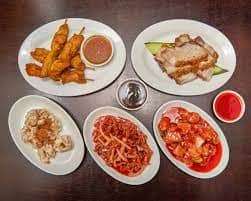 The next favourite Chinese restaurant of ours that we highly recommend you visit is Welcome Inn – a casual, relaxed, and small place that is focused on offering excellent food prepared from fresh and traditional ingredients.
Of course, their menu is pretty big and includes a selection of the most popular Chinese dishes both with meat, seafood, and vegetables.
We highly recommend their Sweet and Sour Chicken, Chicken in Hot and Garlic Sauce, Shredded Crispy Beef with Chilli, Beef with Green Peppers and Black Bean Sauce, Duck in Orange Sauce, and the Braised Bean Curd in Oyster Sauce.
If you like Chow Mein then you will be pleasantly surprised because they have a lot of options – from Rice Noodles with Beef and Black Bean Sauce and Spicy Singapore Rice Noodles (either with prawns, chicken, or pork) to Mixed Seafood Noodles and Roast Pork Noodles!
Address: 49, Hornchurch RM11 1TP
Peking Garden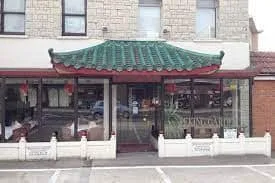 Another Chinese restaurant in Hornchurch offers delicious traditional food in Peking Garden. The service is excellent, the staff is friendly, and the food is incredible – what more can you need, right?
We usually start off either with Vegetarian Spring Rolls, Prawn Crackers, Spicy Ribs, or Prawns with lemongrass in coconut sauce.
When it comes to their main dishes, they have a lot of options – soups, duck, chicken, seafood, beef, lamb, pork dishes, noodles, rice, and so much more. We have been visiting Peking Garden for a few years yet we still haven't tried everything on their menu, however, what we have ordered was excellent. We are certain that whatever you order – you will love it!
Address: Swan House, 36-38 Station Ln, Hornchurch RM12 6NB
Chopstick
Next place on our list is a takeaway restaurant and there isn't a dine-in area, however, this shouldn't stop you from ordering and enjoying their delicious food in the comfort of your home. We love ordering whenever we don't feel like cooking and we are craving Chinese traditional food!
They have an impressive menu filled with all of your favourite Chinese dishes – from starters to main dishes and even desserts!
We love their Dim Sum as well as their soups which is why we always order at least one of each. We recommend the Prawn & Chive Dumpling (with pork) as well as their Chicken Mushroom Soup!
Next, we highly recommend their Royal Pineapple Chicken, Beef in Black Bean Sauce, Duck in Plum Sauce, Garlic & Chilli Lamb, and the Sweet & Sour Chicken Hong Kong Style. But, of course, they have plenty of other options to choose from so we are certain you will find your favourite Chinese dish on their menu!
We also really enjoy their Seafood Special with Rice which has king prawns, fish cake, squid, mussels, spring onion, oyster sauce, and seasonal vegetables!
Address: 9 High St, Hornchurch RM11 1TP