Looking for a restaurant in Islington that offers Chinese cuisine? You want to find a place that has delicious food so you can visit it for lunch or dinner? Well, since our team is known for enjoying Chinese food and trying out different restaurants in the area, we figured that we need to make a list of our favourite Chinese places in Islington in hopes of helping someone that can't decide where to eat!
So keep on reading to find where we enjoy going to the most – because of the delicious food, the friendly staff, and the beautiful decor of the restaurant!
Top 4 Chinese Restaurants In Islington You Must Visit!
Yipin China
Yipin China is a cute little restaurant that offers delicious Chinese food – and we recommend you visit it! They have a lot of traditional meals as well as some interesting and unique dishes you must try!
As a starter, we recommend you order their Jellyfish with Chicken (chicken, jellyfish, cucumber). We have never had jellyfish previously and we were surprised by how delicious it is! We also really like the Numbing-and-Hot Sliced Beef as well as their Spiced Snails with chilli!
Similar to their starters, the main dishes consist of unique ingredients (and some traditional dishes here and there). We recommend you give their Mandarin Spare Ribs and the Gong Bao Chicken with Peanuts!
Address: 70-72 Liverpool Rd, London N1 0QD
Kaki
Kaki is a stylish restaurant offering Chinese food – a great place to grab a quick lunch or dinner in! What was formerly a pub called Canal 125 is now a restaurant focusing on Shandong, Xinjiang and Szechuan provinces cuisine – and everything on the menu is incredible! We guarantee that you will visit this place more than once!
A lot of dishes on their menu are spicy because they are made with chilli oil or served with chilli sauce so keep that in mind!
We highly recommend ordering their Crispy Chilli Chicken as well as their Boiling Beef – some of our favourite dishes in Kaki!
Address: 125 Caledonian Rd, London N1 9RG
Asia Village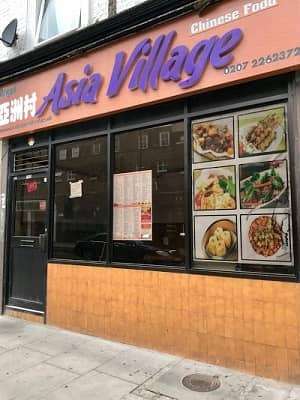 Asia Village is a takeaway restaurant that also offers home delivery. They do not have a dine-in area, however, this shouldn't stop you from ordering because they truly provide some of the best Chinese food in Islington.
From Dim Sum, duck and lamb dishes to BBQ pork, soups, squid dishes, Chow Mein, Rice Dishes, and so much more!
We really enjoy the Siu Mai with marinated pork and prawns, the spring rolls and the Smoked Shredded Chicken.
We also recommend you order the Duck Curry and the Tofu with broccoli!
Address: 153 Essex Rd, London N1 2SN
Golden Jade Chinese Restaurant
Golden Jade Chinese Restaurant is another takeaway restaurant offering home delivery on our list that has delicious Chinese dishes!
We really enjoy their bestsellers – the Prawn on Toast served with chilli sauce, the Sweet Mandarin Chicken Wings as well as the new things on their menu – the Roasted Duck Spring Roll and the Tofu Black Bean Sauce.
Other favourites of ours are their Sweet Sour Hong Kong Style, Malaysian Style Chicken (fried chicken and vegetables, peanut sauce).
Address: 279 New N Rd, London N1 7AA