For those of you looking for a good Chinese restaurant in Kingston Upon Thames where you will go and grab a quick lunch or dinner – look no further because we have decided to share all of our favourite Chinese restaurants in the area.
Among the myriad of oriental eateries in Kingston Upon Thames, we have carefully curated a list of the crème de la crème, four Chinese restaurants that have risen above the rest to tantalize our distinguished palates.
Yimchai
Yimchai is definitely one of our favourite Chinese restaurants in Kingston Upon Thames which is why we decided to start off our list with it. We do highly recommend you visit this place, however, make sure you book a table before you go especially if it's during the weekends since they get pretty busy!
We really enjoy their Grilled Peking style Pork dumplings and Sesame Prawn Toast from their starters. When it comes to their main menu, they have plenty of delicious options – wraps, soups, rice dishes, noodles, etc.
Our team often orders the Deep-fried crispy shredded beef (it's spicy), the Sweet and Sour Chicken, the Sichuan Chicken with Rice as well as the Pork and Prawn Dumplings.
Address: 37 Richmond Rd, Kingston upon Thames KT2 5BW
little hunan
In Little Hunan, you can find some of the best Traditional Chinese Chicken dishes – and you definitely must visit whenever you find the time!
They have a "Chefs Special Recommends" section on their menu and we highly recommend you order something off of there because everything is truly incredible – from the Soft Shell Crab and Stir-Fried Pork With Chilli to the House Special Grilled Fish In Chilli Oil and the Spicy Numbing Stir-Fry! As you can tell, they use a lot of chilli in their dishes which makes them even tastier, however, if you do not like spicy food, they have plenty of other options on the menu!
little Hunan also has soups, Beef/ Chicken/ Pork/ Duck/ Lamb/ Prawns dishes and a lot of other options. Their menu is pretty large so you will be able to find something suitable for your taste!
Address: 51 Surbiton Rd, Kingston upon Thames KT1 2HG
Kung Fu Chinese Buffet
This restaurant is super spacious and casual – perfect for a quick lunch or dinner. They have an all-you-can-eat Chinese buffet which we really enjoy! You will really be impressed by how delicious everything on the menu really is!
They have noodles, egg fried rice, seafood dishes, curry, egg rolls, steamed vegetables, and even sushi. We know that sushi is a Japanese dish, however, we have ordered their sushi before and we were super happy with how tasty and well-prepared it was!
Address: Clarence St, Kingston upon Thames KT1 1QJ
Silver River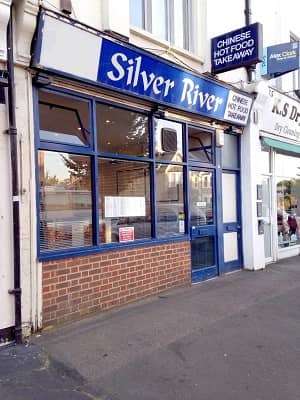 Silver River is a takeout restaurant and they do not have a dine-in area, however, since they offer extremely delicious Chinese food we decided to feature them in our article. We highly recommend you either order takeaway or home delivery so you can try their cooking – it's incredible!
On their menu, you can find traditional Chinese cuisine – from soups and rice dishes to Stewed Chicken with Cashew Nuts, Roast Duck with Pineapple, Kung Po Chicken Prawns, etc.
They also have a special "Set Menu" which is super cheap and it's an amazing deal. For example, they have Dinner For One including Chicken Chow Mein, Sweet and Sour Pork Balls, and Egg Fried Rice for just £6.10!
You can also find "Dinner For Two" Set Menus as well as Dinner For Three, Four, And Five People which is amazing!
Address: 133 Richmond Rd, Kingston upon Thames KT2 5BZ