Who doesn't love greek food, right? We are certain that you are looking for good Greek restaurants in Bethnal Green that you can visit which is why our team is going to share their favourite places in the area!
Top 4 Greek Restaurants In Bethnal Green You Must Visit
Hungry Donkey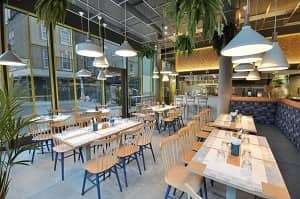 One of our favourite Greek restaurants in London happens to be located in Bethnal Green – and we highly recommend you visit! The food is incredible, the atmosphere is lovely, the staff is friendly, and you will feel the Greek hospitality the second you walk into Hungry Donkey!
You have to start off with their Tarama, Tzatziki, Dolmadakia (stuffed vine leaves with rice), the Grilled Halloumi, or the Spanakopita Strifti (pastry with feta cheese, spinach).
When it comes to their main dishes, they offer delicious Souvlaki – the Chicken Souvla and the Pork Souvla are our favourites (they come with brown rice, cabbage, and special mayo sauce).
For dessert, you are going to love their Bougatsa (pastry with custard, cinnamon and icing sugar) and the Kormos (cocoa loaf, strawberries, berries).
Address: 56 Wentworth St, London E1 7AL
The Athenian
Next on our list is The Athenian which is a very casual place offering Greek street food.
The Grilled Halloumi Cheese Souvlaki Wrap is definitely incredible and we recommend it even if you eat meat. But if you want a wrap with meat then go for The Beast Chicken Gyros Wrap or the Pork Gyros Wrap. Of course, they also offer gyros boxes for those of you that don't want a wrap.
Are you vegan? Then go for their vegan "This isn't Chicken Wrap"!
Address: Unit 54, Boxpark, 2-10 Bethnal Green Rd, London E1 6GY
Souvlakiland
Another incredible place in Bethnal Green that offers tasty Greek food is Souvlakiland. Start off with a traditional Greek Salad.
Main dishes include street food such as Souvlaki wraps and Gyros – chicken, pork, Greek sausage, Beef and Lamb mince kebab.
If you don't eat meat – don't worry because they also have vegetarian options. For example, their Halloumi Wrap (with grilled halloumi, fries, tzatziki, tomato, lettuce, onions, aubergine, zucchini, peppers) or the Vegetarian Feta Wrap (with feta cheese, fries, tzatziki, tomato, lettuce, onions, aubergine, fried zucchini, peppers).
Address: 199A Homerton High St, London E9 6BB
The Real Greek
And last but definitely not least is The Real Greek – incredible Greek restaurants with locations all over London. We have previously talked about this place but because they also have a location in Bethnal Green, we had to put them on our list today too. Everything about this restaurant is incredible – from the interior and the friendly staff to the ambience and the delicious food.
We always start off with their Spicy Feta Dip (with feta cheese, roasted peppers, and chilli), the Santorini Fava (yellow lentils, herbs, spices, tomato salsa, onions, capers), the Spinach Tiropitakia (pastry with leek, spinach, feta cheese), and the Chicken Monastiraki (marinated chicken with Greek herbs, tzatziki, onion, tomatoes).
When it comes to their main dishes, we recommend the Loukaniko (chargrilled traditional Greek sausage, Greek Slaw), the Kalamari Souvlaki Wrap (with tarama, cucumber), the Lamb Meatballs Souvlaki Wrap (with minted yoghurt, fries, tomatoes, red onion, paprika), and the Pork Skewer Souvlaki Wrap (with fries, tzatziki, tomatoes, red onion, paprika).
If you are vegan then you are going to love their Jackfruit Gyros (with Vegan Aioli, fries, tomatoes, red onion, and paprika) and the Vegan Meatballs Souvlaki Wrap (with fries, tomatoes, red onion, paprika, vegan aioli)!
Address: 6 Brushfield St, London E1 6EW