We know how much you love Indian cuisine which is why we gathered all of our favourite Indian restaurants in Biggleswade so we can share them with you!
Top 4 Indian Restaurants In Biggleswade According To Our Team
Biggles Lounge
First Indian restaurant on our list located in Biggleswade that we highly recommend you visit is Biggles Lounge – a super casual and simple place with excellent service and delicious food.
Start off with either a Pepaya Mushroom (mushroom, fresh garlic, fresh coriander, secret spices), Hot meat puri (lamb), Tandoori Lamb Chops, or a King Prawn Butterfly.
When it comes to their main dishes, we highly recommend their Naz Ki Bahar (chicken, garlic, rosemary, onions, green & red paper, tomato, special spices), the Lamb Deshi Biryani (with chickpeas, potatoes, French beans, rice), the Lamb Tikka Balti, Kakapuka (crab meat, garlic, ginger, curry leaves, hot sauce, spices, cilantro), and the Chicken Morisas (unique recipe with hot chillies).
Address: 4-6 Shortmead St, Biggleswade SG18 0AP
Indian Spice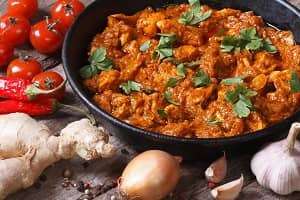 Next on our list is Indian Spice – another casual little Indian restaurant that offers delicious food in a cosy and relaxing setting.
Starters include traditional options such as Onion Bhaji, Lamb Chops, Samosa, Salmon Tikka, and King Prawn Butterfly.
Main dishes that we really enjoy include all of their Tandoori dishes, the Biriyani and Balti as well as the timeless favourites – Curry, Masala, Dansak, Madras, Bhuna, and Dupiaza.
If you are into fish and seafood dishes then you will really enjoy their Salmon Jalfrezi, Fish Curry, Fish Madras, and the King Prawn Roshni.
Address: 81B High St, Biggleswade SG18 0LA
Indian Monsoon
Next on our list, we have a takeaway Indian place – Indian Monsoon. Keep in mind that they do not have a dine-in area so you should order when you want to enjoy delicious traditional food at home. Either go for takeout or the home delivery option depending on your preferences.
We always start off with their Mixed Platter (which includes chicken tikka, lamb tikka, onion bhaji, a salad, and mint sauce) or the Samosa Starter which also comes with a salad and mint sauce.
Aside from the traditional Tandoori, Biriyani, and Balti dishes that they offer, we also really enjoy their Monsoon King Prawn (tandoori king prawns, special spices, medium hot sauce), the Fish Masala, Morcha Gosht Sizzler (marinated lamb, chillies), the Mango Delight Chicken (with coconut, mango, almonds), and the Duck Cashews (duck, cashews, almonds, coconut).
Address: 22 Hitchin St, Biggleswade SG18 8BE
Spice Lounge
And the last Indian restaurant located in Biggleswade that we highly recommend you visit is Spice Lounge – a simple, cosy, and casual place with an impressive menu!
Start off with Onion Bhajee, Chilli Paneer, Meat or Vegetable Samosa, Lamb Tikka, or Aloo Chaat Puree.
When it comes to their main dishes, you can never go wrong with their Tandoori, Biriyani, or Balti dishes but, of course, they offer plenty of other options as well. For example, we love their Lamb Naga Chilli Masala (with Bangladeshi naga chilli sauce), the Spice Lounge Mixed Masala (chicken tikka, lamb and king prawns, special masala sauce), and the Zaffrani Chicken Tikka (with Bangladeshi fresh herbs and spices).
Address: 126 Church St, Langford, Biggleswade SG18 9FH