Our team loves Indian food – and we also really enjoy going out to different restaurants in hopes of finding the ones that offer the best service and the most delicious food.
And with that in mind, we decided to share our favourite Indian restaurants in Ealing with you – so you can visit them and fall in love with these places as well!
Top 4 Indian Restaurants In Ealing You Must Visit!
India India
The first place on our list is India India – a small casual restaurant with simple decor and super tasty Indian food worth trying!
On their menu, you will find all of your favourite traditional Indian dishes – from starters to curries, Balti dishes, biriyani, and plenty of other incredible options!
We highly recommend their Tandoori King Prawn, the Lamb Balti, Chicken Biryani, and our favourite – the Garlic Chilli Chicken!
Of course, make sure you also get traditional naan bread – we love garlic naan because they go very well with all of the main dishes!
Address: 206 Northfield Ave, London W13 9SJ
Haweli of Ealing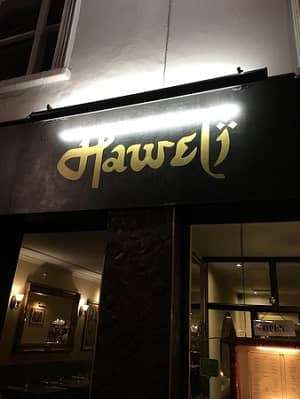 Haweli of Ealing is another incredible Indian restaurant that offers tasty food – and in our opinion, they serve the most delicious Lamb Tikka Masala in Ealing!
They have some pretty unique dishes on their menu as well as traditional Indian food. We highly recommend trying out their Special Lamb Bhuna which is a secret recipe of the chef! It's served with rice and a salad! We also really enjoy the Chicken Passandra (with cream, nuts, and yoghurt) as well as the Butter Chicken!
On their menu, they have a special section for Vegan dishes so if you are indeed vegan you will be able to enjoy their delicious cooking as well!
And on Sundays, they offer an all-day brunch buffet with your favourite Indian dishes – so if you are planning on going out this Sunday definitely make sure to visit Haweli of Ealing instead of spending hours cooking at home!
Address: 127 Uxbridge Rd, London W13 9AU
Spice Magic Indian Restaurant
Another favourite Indian restaurant of ours located in Ealing is Spice Magic.
You need to try their Chicken Momo dumplings with fresh garlic, ginger, coriander, onion as well as their Seekh Kebab Starter – these are our favourite starters from the restaurant, however, they have plenty of other incredible options like Prawn Kazu and Squid Masala!
The main dishes on the menu include tandoori, balti dishes, biriyani as well as a few other specials like their Magic Lamb (with mustard, fenugreek, curry leaves) and a Lamb Pasanda (which is marinated overnight then cooked in delicate almond sauce).
We also highly recommend their Chicken Jalfrezi (with onions, peppers, tomatoes, green chillies) and their Prawn Biriyani!
Address: 122 Northfield Ave, London W13 9RT
Patri Northfields
Patri is definitely a favourite restaurant of ours. They have focused on traditional Indian street food classics and have incorporated them into their menu. Also, the venue of this place is super modern and stylish!
Now, when it comes to the menu, they have included plenty of vegan and vegetarian dishes so even if you don't eat meat or dairy products you will still be able to enjoy all of the delicious street food India has to offer. For example, we recommend their Old Delhi Pani Puri
Bombs (crispy wheat balls filled with chickpeas, potato, topped with mint water) as well as the Daal Makhani (black lentils cooked overnight in butter and tomato sauce served with spices and cream).
If you do eat meat then definitely get a Nawabi Seekh Kebab (marinated lamb mince topped with masala
kachumber) or the Patri Special Bhelpuri (Rice, Papdi Discs, Spicy Indian Namkeen Mix, diced
potatoes, chickpeas, onions, cucumber, vermicelli, lime, ginger julienne, tamarind, coriander).
They also have incredible desserts you cannot miss!
Address: 139 Northfield Ave, London W13 9QT