Finding a good Indian restaurant in Hitchin can be challenging which is why we decided to share all of our favourite places in the area that offer delicious fresh food and excellent service – exactly what you are looking for!
All of these places are considered hidden gems because not many people know about them yet they truly offer incredible traditional food.
Top 4 Indian Restaurants In Hitchin According To Our Team
Paprika Indian Restaurant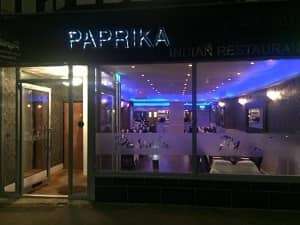 First Indian restaurant on our list that we recommend you visit is Paprika. Their menu is super impressive and filled with all of your favourite traditional starters and main dishes.
We usually start off with a Khadom Phool (deep-fried minced lamb, spicy mashed potatoes, sesame seeds), Tandoori Chicken, Fish Tikka, and Vegetable Samosa.
When it comes to their main dishes, they have plenty of options – from Balti, Biriyani, and Tandoori to Curry.
We love their Lamb Chops (marinated in yoghurt, rosemary, black peppers, lemon, mint, ginger, and garlic), the Chicken Tikka Masala, the Lamb Pasanda, the Khala Lamb Bhuna, and all of their Balti dishes.
They also offer a lot of vegan and vegetarian options such as a Vegetable Jalfrezi, Vegetable Dansak (with lentil sauce), and the Vegetable Masala.
Address: 27 Nightingale Rd, Hitchin SG5 1QU
Dhaka Restaurant
Next on our list is Dhaka – yet another favourite Indian restaurant of ours that you are going to love!
Starters include Aloo Chat, Samosa, King Prawn Butterfly, Onion Bhaji, and Lentil Soup.
When it comes to their main dishes, you can never go wrong with their Biriyani options – for example, the Chicken Biriyani and the Tandoori King Prawns Biriyani. We also really enjoy their Tandoori dishes, the Chicken Madras, the Moglai Lamb, and the Lamb Kashmir.
Address: 25 Sun St, Hitchin SG5 1AH
Indian Hitchin
Yet another lovely Indian restaurant in Hitchin that you have to visit is called Indian Hitchin. The interior is modern yet simple and casual, the staff is friendly, and the food is delicious.
We recommend you start off with their Onion Bhaji (served with mint yoghurt dip), the Lamb Tikka Starter, and the Prawn Puri (served with mint yoghurt dip), and the Chilli Paneer.
Then you have to try their Indian Mixed Grill which is a great way to try a lot of their main dishes (consists of chicken tikka, lamb chops, seekh kebab, tandoori chicken, a salad and yoghurt dressing, and naan bread). We also really enjoy the Tikka Masala Balti and the Royal Biryani (with lamb).
Address: 47 Ninesprings Way, Hitchin SG4 9NR
Raj Douth Tandoori Cuisine
And last but not least is Raj Douth Tandoori Cuisine – another hidden gem in Hitchin that we discovered just a few months ago yet we have visited more times than we can count.
Our favourite starters include a traditional Tandoori Chicken Starter, Chilli Paneer (with green chilli), Meat Samosa, Onion Bhaji, and a Spicy Kalija Bhaji (which is a marinated and fried chicken liver with spices, caramelised onion, and chilli).
Main dishes that we recommend you try are the Korai Chicken, Raj Douth Lamb, the Ginger And Cashew Nuts Lamb, the Chicken Korma, Prawn Bhuna, Lamb Vindaloo, and the Chicken Tikka Dansak but, of course, there are plenty of other options that you will enjoy!
Address: 19A Hermitage Rd, Hitchin SG5 1BT