Who doesn't love Indian cuisine? It's full of flavour and colour making it not only delicious but beautiful once it arrives on your plate! There are plenty of incredible Indian restaurants located in Romford, however, our team decided that we should share our favourite places in the area with you so you know exactly where to go next time you are craving Indian food!
Top 4 Indian Restaurants In Romford According To Our Team
Aroma Indian Restaurant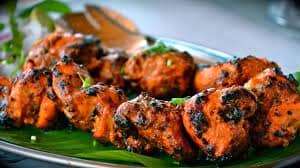 First on our list is definitely one of our favourite Indian restaurants in Romford that we highly recommend you visit if you haven't already! The venue is stylish yet casual and relaxed with wooden floors and fish tanks. When it comes to their menu, you are going to find a selection of your favourite traditional Indian food for sure!
Starters include Onion Bhaji, Aloo Chaat, Samosa, Duck Tikka Starter, Lamb Tikka Starter, and our favourite – King Prawn Butterfly!
Their main dishes include Tandoori, Biriyani, Balti dishes, Pasanda, Curry, Madras, Dansak, and so many more options. We have been visiting Aroma for the past few years and we can say that we have already tried almost every main dish on their menu – and we love all of them. From their Lamb Dansak, Lamb Tikka Jalfrezi, King Prawn Vindaloo, and Chicken Tikka Madras to their Chicken Curry, King Prawn Saag, Lamb Korai, and the Seekh Kebab!
Address: 55 High St, Romford RM1 1JL
Bekash Tandoori Restaurant
The next Indian restaurant in Romford you need to visit is Bekash Tandoori Restaurant. Their simple and casual venue, friendly staff, and delicious food are the perfect combination you need after a long day of work!
We usually start off with their Lamb Tikka, Kebab Roll, Vegetable Samosa, or the Lamb Chops.
Then we move on to their incredible main dishes. We highly recommend the Jalfrezi Balti, Aloo Chana Balti, Prawn Curry, Sea Bass Bhuna, Chicken Tikka Biryani, and the Sylhet – our favourite dishes!
Address: 70 Victoria Rd, Romford RM1 2LA
Delhi Live
One of the main reasons why we love Indian food so much is because it's super diverse and there is something for everyone's taste. Delhi Live – another favourite restaurant of ours, definitely managed to feature this diversity on their menu. They have options for vegans, vegetarians, and non-vegetarians so no matter if you eat meat or not, you are going to find your next favourite dish on their menu!
First on their menu are all of the vegetarian, chicken, lamb, and seafood starters. From Chicken Tikka Shashlik and Baby Lamb Chops to Tandoori King Prawn and Punjabi Samosa!
The main dishes are the same – chicken, lamb, seafood, and vegetarian options. If you do eat meat then we highly recommend ordering the Butter Chicken, Rara Gosht, Gosht Dopiaza, Goan Fish Curry, Chicken Dum Biryani, and the Masala Gosht Tak-a-Tak.
If you prefer vegetarian dishes, go for the Soya Tikka Masala, Dal Tadka, Bhindi Masala, or the Veg Dum Biryani!
For dessert, we either have their Gajar ka Halwa with Vanilla Ice Cream or the Gulab Jamun with Ice Cream!
Address: 40 Victoria Rd, Romford RM1 2JH
Indian Ocean Romford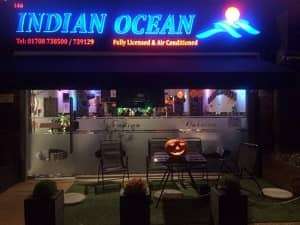 And the last place on our list is a hidden gem that we recently found called the Indian Ocean. It definitely is an incredible restaurant with a stunning interior, excellent food, great service, and affordable prices!
For starters, we highly recommend their incredible Ocean Special Crab (crab meat, herbs, coconut, served with salad, and a mint sauce), the Tandoori Lamb Chops, and the Prawn Puri!
Main dishes include traditional Tandoori, Biryani, Curry, and a few interesting House Specials such as Raja -E-Garlic (prawns with garlic, pepper in a thick sauce), Hash Nowabi (spicy duck in sauce), and Murgh Masala (chicken, rice, minced lamb, egg)!
Address: 146 Rush Green Rd, Romford RM7 0QA