Today, we have decided to gather and share all of our favourite Italian restaurants in Bethnal Green. We know that there are plenty of great places in the area and you are probably having a hard time choosing where to go for dinner – and we hope our list will help you!
Top 4 Italian Restaurants In Bethnal Green You Must Visit
Italina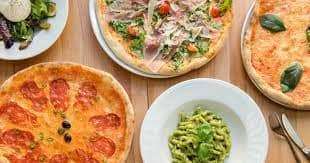 One of our favourite Italian restaurants in Bethnal Green is Italina – a casual place with a traditional and cosy interior, excellent service, and delicious pizza and pasta.
The menu is relatively small and focused only on pizza and pasta. They do have starters such as Burrata with grilled vegetables and Deep-fried calamari.
When it comes to the pasta dishes, we love the Gnocchi all Sorrentina (with tomato sauce, mozzarella, parmesan, and basil) as well as the Pappardelle Al Ragu' (with homemade pasta, pork and beef ragu).
If you love Italian desserts then you will enjoy their Tiramisu and the Nutella pizza.
Address: 385 Cambridge Heath Rd, Bethnal Green, London E2 9RA
La Forchetta
Next incredible Italian restaurant you have to visit is La Forchetta – traditional rustic interior, delicious food, and lovely service.
Starters include Brie Fritto (deep-fried brie cheese, served with cranberry sauce), Gamberoni All Aglio (prawns with garlic, parsley, white wine, lemon, butter sauce), and Insalata Tricolore (a salad with avocado, buffalo mozzarella, tomatoes).
When it comes to their main dishes, we love their fish and seafood such as the Torno Alla Pizzaiola (tuna steak, tomato, olive and caper sauce, spinach, potatoes) and the Branzino Al Forno Con Vegetali (sea bass with lemon white and wine sauce, seasonal vegetables).
We also recommend their pasta – for example, the Tagliatelle Al Salmone Affumicato (smoked salmon, mascarpone cheese, spinach, cream sauce), Spaghetti Alla Carbonara, or Linguine La Forchetta (with Scottish beef fillet, garlic, chilli, sun-dried tomato, and tomato sauce).
Address: 464 Bethnal Green Rd, London E2 0EA
E Pellicci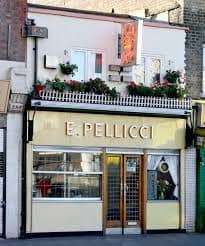 We are certain that you have already been to E Pellicci – one of the oldest and most popular Italian restaurants in Bethnal Green. But did you know that it was established in 1900? Yes, they have a very rich history and a lot of experience which shows through their dedication, excellent service, and incredible menu. But keep in mind that they do not have pizza.
What do we love most from their menu? Definitely the pasta! From their Lasagna, Cannelloni (filled with spinach, ricotta cheese, tomato and béchamel sauce) and Bolognese Spaghetti to their Napoli Penne and the Penne (with homemade pesto, tomato sauce, pine nuts,
baby spinach, Parmigiano), we love all of their options!
Address: 332 Bethnal Green Rd, London E2 0AG
Stringray Globe Cafe
And last but definitely not least is Stringray Globe Cafe – a lovely Italian restaurant with a gorgeous outdoor sitting area perfect for those warm summer days!
The menu consists of pasta and pizza – and, in our opinion, their pizzas are the best in Bethnal Green so whenever you do visit, definitely order a pizza!
They have traditional options such as Margherita, Funghi (with tomato sauce, mushrooms, mozzarella), Quattro Formaggi, and Prosciutto as well as a few unique pizzas such as American Hot (with tomato sauce, mozzarella, pepperoni and jalapenos) and the Mexicana (tomato sauce, mozzarella, jalapenos, minced beef, sweetcorn).
Address: 109 Columbia Rd, Bethnal Green, London E2 7RL