There are so many unique Italian dishes that are filled with flavour which is why our team loves Italian cuisine.
We are always searching for restaurants where we can go and have that Italian authentic taste – and there are many places in Enfield that order exactly what we are looking for. Since we know that our readers love Italian food as must as we do, we decided to share our favourite restaurants in Enfield, so you can try them as well!
Top 4 Italian Restaurants In Enfield
Arte Pizza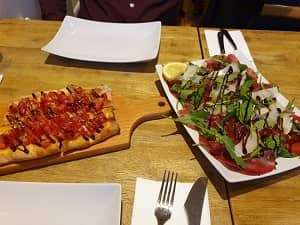 Arte Pizza is the perfect little Italian restaurant that is family-run and is focused on delivering quality food prepared from fresh ingredients.
All pizza dough as well as their pasta is handmade! The pizza dough that they make takes 72 hours to rise before it's ready to be served on your plate. This makes all of their pizzas light and thin-crusted, exactly like they offer them in Italy!
Their Main Menu is filled with delicious starters, salads, and pasta.
They have a separate menu for their pizza – the Bufala Pizza (tomato sauce, mozzarella, and fresh basil) and the Tonno (tomato sauce, mozzarella, tuna fish, onions) are our favourites!
Address: 129 Chase Side, Enfield EN2 6NN
Zaza
Another amazing Italian restaurant that focuses on delivering delicious meals including freshly prepared pasta, homemade sauces as well as handmade pizza dough! We highly recommend visiting Zaza whenever you are craving that authentic Italian taste!
Their starters vary from Bruschetta, deep-fried calamari, sautéed prawns, and goat's cheese.
They have delicious main dishes prepared from fresh fish and meat but we must admit that their pasta dishes are our favourite! For example, the Meatball Pappardelle (pasta, pork and beef meatballs, red wine and tomato sauce, chilli) and the Penne con Pesto (penne, pesto, tomatoes, olived, vegetarian Parmigiano).
Address: 88-90 Chase Side, Enfield EN2 6NX
Prezzo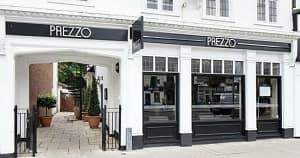 Prezzo is an Italian chain restaurant that offers amazing stone-baked pizzas and fresh pasta. They have over 150 branches in the UK and over the years, they have proven to be some of the best Italian restaurants in the entire country!
Prezzo has a lot of gluten-free, vegan, and vegetarian dishes as well as some low-calorie options so they truly have made sure their menu caters to everyone's needs!
Their Enfield location has an incredible garden area where you can enjoy the good weather!
When it comes to their menu, we highly recommend getting the Italian hummus. It's served with flatbread and it's an incredible starter.
Their pizzas are delicious and very well-made, however, our team often orders their pasta because they truly are incredible. We love the Spaghetti with King Prawns made in chilli, garlic, and tomato sauce as well as the Spaghetti & Meatballs (the meatballs are delicious)!
Address: 26 The Town The Coach House, Enfield EN2 6LU
Marcus Kitchen & Bar
Marcus Kitchen & Bar are focused on making delicious homecooked meals. Everything on the menu is traditional Italian so be prepared to enjoy an amazing lunch or dinner whenever you decide to visit this restaurant!
We love ordering their Gnochetti sardi con salmone e stracciatella (pasta, salmon, fresh straciatella) as well as the Risotto all'arancia (orange risotto). They have a lot of vegan and vegetarian options that you really cannot find anywhere else. For example, the Orange Risotto that our team likes so much is vegetarian!
We also highly recommend you leave room for dessert because they have incredible options – the Ricotta e Pera (cheesecake with pears and ricotta cheese) is one of our favourites!
Address: 16 Burleigh Way, Enfield EN2 6AE