By now, all of our readers know that we adore Italian cuisine – from the starters and the traditional main dishes, the pizza, and the desserts!
Since we tend to go out to plenty of restaurants in Hounslow, we decided to share our favourite Italian places in the area with you so you know where to go next!
Top 4 Italian Restaurants In Hounslow According To Our Team
Il Bebo's
First on our list is Il Bebo's – a chic and stylish rustic place offering Italian food – from pasta and pizza to risotto and traditional meat and fish main dishes!
The restaurant is family-run and is focused on delivering delicious traditional food prepared from fresh fish, meat, and vegetables! It really is an amazing restaurant and we highly recommend you visit it whenever you have time!
We always start off with the Mozzarella In Carrozza (deep-fried mozzarella with Pomodoro sauce) or with the Il Bebo's Special Platter for two (it contains calamari, mozzarella in Carrozza, bruschetta, pane all pesto, pane e Cipolla, served with Pomodoro and garlic mayonnaise dip). If you enjoy salads, then you will love their "Insalate" options!
As a main dish, we love the traditional Spaghetti Alla Carbonara as well as the Penne Con Salmone (salmon, broccoli, red chilli, red pesto and creamy sauce). They also offer delicious well-made pizzas!
Address: 62 Staines Rd, Hounslow TW3 3LZ
Vegology
Vegology is a vegan and vegetarian restaurant that offers super tasty pizzas. Even if you do eat meat, we still highly recommend you visit this place because they have super unique dishes you will love!
We really enjoy the Vegetarian Hot Pizza (with peppers, onions, sweetcorn, mushrooms, fresh jalapeno) as well as the traditional Margherita.
Another favourite is the Stonebaked Garlic Bread with Mozzarella!
If you have room for dessert, we highly recommend you get the Lemon Chia Seed and Pistachio Cake!
Address: 30 Bath Rd, Hounslow TW3 3EB
Avanti Pizza
This is a takeout Italian place that offers both takeaway and home delivery. They do not have any dine-in areas, however, we still encourage you to order something from them because they make tasty food!
Since they don't only offer Italian food, you can find some pretty interesting options which are creative. They often combine Italian traditional dishes and prepare them with Indian spices and ingredients mostly used in Turkish cuisine! For example, they have this delicious Indian Express Pizza that has paneer tikka, onions, sweetcorn, and green chilli.
But if you are craving traditional Italian pizza, you can never go wrong with the classic – Margherita Pizza.
Address: 321 Vicarage Farm Rd, Hounslow TW5 0DR
Pizza House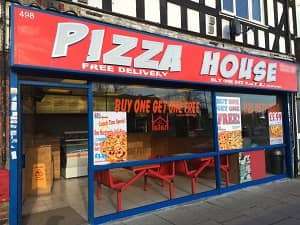 Pizza House is another takeout restaurant offering home delivery and takeaway. Keep in mind that they only offer pizzas and you won't be able to find any other Italian dishes on their menu.
It's the perfect place to order pizza from and enjoy it later in the comfort of your own home! Also, the prices are super affordable yet the quality of the food is high!
We always start off with their Garlic Bread with cheese because it's super tasty.
They have plenty of different pizzas you can choose from. They have vegetarian and vegan ones as well as pizzas for all the meat lovers out there!
Address: 498 Great West Rd, Hounslow TW5 0TE