Are you a huge fan of Italian food? Well, if that is the case then you are probably looking for the best Italian restaurants in Lewisham, right? Our team has decided to gather all of our favourite places in the area and share them with you – so keep on reading!
Top 4 Italian Restaurants In Lewisham You Must Visit!
Luciano's
The first Italian restaurant in Lewisham we enjoy visiting is Luciano's – a casual and cosy little place that offers traditional dishes from around Italy!
They have wood-fired pizza and delicious pasta – and what we love most about Luciano's is that they prepare their own pizza and pasta dough. This makes their dishes special and authentic!
They have an incredible Breakfast menu as well as a Lunch one which is why we don't go there only for dinner but for brunch and lunch as well!
We highly recommend you try the Spaghetti Gamberoni Piccanti (with sauteed garlic prawns, cherry tomatoes, chilli), the Penne Salmon e Zucchini (pasta with poached salmon, courgettes, cream) as well as the Ravioli di Ricotta Pomodorini e Melanzane (with ricotta, aubergine, parmesan, cherry tomato and basil sauce)!
And don't forget to order desserts – we love the Tiramisu, the Cannoli, and the Lime and Coconut Cake!
Address: 131A Burnt Ash Rd, London SE12 8RA
Bella Roma
Next on our list is Bella Roma – another casual lovely little Italian restaurant that you are going to fall in love with! The food is incredible, the staff is friendly, and the service is excellent which is exactly what our team looks for in a good restaurant!
Of course, we will focus on their menu since it's the most important aspect of a restaurant. We can assure you that everything is delicious – plus, they have a huge selection of the most popular and loved traditional dishes!
The starters include Beef meatballs, Burrata (with Pesto, Basil, Cherry Tomato, Burrata Cheese). They even have Sharing Platters that are perfect for more than two people. We recommend the Antipasto Misto Della Casa (including Buffalo Mozzarella, Mixed Cured Meats, Suntouch Tomatoes)!
Next on their menu, you will find all of their delicious pizzas as well as their other main dishes. We won't talk too much about their pizza because we are a huge fan of it. We also really enjoy their Tagliatelle Pollo e Funghi (pasta with Parsley, Chicken, Mushroom Sauce), the Linguine Alla Pescatora (with Garlic, Parsley, White Wine Sauce, Cherry Tomatoes, Seafood), and the Vitello Al Lemone (Lemon, White Wine Sauce, Veal Escalope, New Potato, Green Beans)!
Address: 13 Lewis Grove, London SE13 6BG
Sapore Vero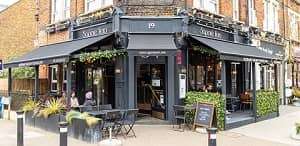 Sapore Vero is another favourite Italian restaurant in Lewisham of ours. We love how great the food is, how good the service is, how they cook with fresh quality ingredients as well as how lovely the atmosphere is! We do recommend you visit whenever you have time! Keep in mind that their main dishes include only pasta and pizza – they don't have other options!
We always start off with Parmigiana di Melanzane al Forno (Aubergines, Tomato Sauce, Basil, Scamorza) and a Tray of Salumi (Italian Charcuterie, Cheese, Focaccia). Sometimes we also get a salad – the one with Tuna is amazing (it has Green Beans, Tuna, Egg, Red Onion, Capers)!
Then we move on to their main dishes – we love all of their pasta and their pizza. It's really hard to choose which one to order which is why we often get both! We especially love the Ravioli Black Truffle Pasta!
They also have an impressive selection of white and red wines that go very well with all of their dishes!
And for dessert, we always get the Panna Cotta because it's homemade!
Address: 19 Staplehurst Rd, London SE13 5ND
Marcella
And last on our list is Marcella – a very stylish yet simple Italian restaurant. This description can be applied to their menu as well since it's pretty simple and it's focused on seasonal Italian and British produce. Of course, they also offer an impressive selection of wines!
The menu includes 3 starters, 3 pasta dishes, 3 main dishes, and 3 desserts. Yes, the menu is on the smaller side, however, Marcella is focused on delivering quality food prepared from seasonal produce – they don't focus on quantity, and this is why we really like going there! Everything is excellent and fresh.
We recommend you start off with their Meatballs with parmesan then move on to their Tagliatelle with peas and mint, or the Grilled Squid with Tomato, Courgette, and Olives!
And for dessert, we really enjoy the Mascarpone and Chocolate Profiterole!
Address: 165A Deptford High St, London SE8 3NU