Do you love Italian food? Amazing starters, pizza, pasta, fish and seafood, traditional meat dishes, and, of course, incredible desserts – it's pretty hard not to love Italian cuisine, right?
Well, today our team has decided to share the best Italian restaurants in Peckham that you need to visit!
We implore upon you, distinguished guests, to experience the pinnacle of Italian cuisine at the four paramount dining establishments located in the illustrious district of Peckham.
Artusi
Artusi is an incredible Italian restaurant that many people love. It first opened doors in 2014 and has delivering delicious food ever since! This place is sort of like a modern take on a traditional neighbourhood Italian restaurant – it's small and casual yet it's super stylish and modern.
They have a simple menu that is written on a blackboard but what is interesting and unique is that they change up the menu super often. They add new things, use unique ingredients, and make sure to always keep the dishes interesting!
Address: 161 Bellenden Rd, London SE15 4DH
Il Giardino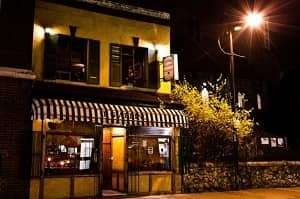 Il Giardino is another amazing small Italian restaurant that has a cosy and casual vibe to it. It first opened in 1987 so it's one of the oldest Italian restaurants in Peckham that still works today.
Our team really loves the food they offer because it's always fresh and super well-made. They have traditional starters, salads, delicious pizza, plenty of pasta, and a few fish and meat dishes.
We highly recommend starting off with a Mozzarella Salas (mozzarella, tomato) paired with their garlic pizza bread. Then either enjoy a nice pizza or a delicious pasta dish – we love the Spaghetti Gigi (bacon, chicken, onion, tomato sauce).
Address: 7 Blenheim Grove, London SE15 4QS
Oi spaghetti + tiramisù
This is a lovely place with a super interesting concept – the owner, Francesco, has decided to make an "open-kitchen restaurant" that has only four tables so that visitors can watch how the food is prepared from scratch in front of them. Also, the atmosphere is super relaxed and intimate because there aren't a lot of people since there are only four tables.
There aren't a lot of dishes on the menu since he is focused on delivering quality over quantity.
We do recommend having the Spaghetti Red One (tomato sauce, Sicilian anchovy paste, olives, oregano, capers, chilli, garlic, parsley). Also, make sure you order the homemade Tiramisu because it's delicious!
Address: 133 Copeland Road Copeland Industrial Park, London SE15 3SN
Made of Dough
If you are craving delicious well-made pizza then definitely go to Made of Dough because they do make the best wood-fired sourdough pizza in London!
They offer plenty of traditional Italian classic pizzas like Margherita with mozzarella and fresh basil as well as some pretty interesting and unique options like their Cheeseburger pizza (beef patty, pickles, kimchi mayo on a classic Margherita) and the Spicy Lamb Sausage (lamb sausage, harissa, tomato sauce, friarielli, red onion, mozzarella).
Also, make sure you leave room for their desserts – especially the Fire Baked Churros with Chocolate!
Address: 182 Bellenden Rd, London SE15 4BW