Looking for the best Italian restaurants in Uxbridge so you know where to go and eat next? Well, our team has decided to share all of our favourite places with you so you don't have to waste too much time. Follow our recommendations and easily pick where to eat next with the list we made for you!
Top 4 Italian Restaurants In Uxbridge You Must Visit!
Nonna Rosa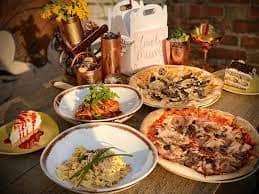 Starting off the list with Nonna Rosa – an Italian restaurant over 2 floors offering delicious traditional Italian food. If you are craving pasta, pizza, or any other traditional meal then definitely visit this place because you will love it!
On their menu, you can find traditional Italian starters (like prosciutto and melon or fried calamari) as well as incredible main dishes.
We highly recommend ordering the Wild Mushroom Risotto with truffle oil and parmesan or the Seabass Filler Siciliano (Seabass fillet cooked in white wine, olive, tomato sauce, served with spinach and sauté potatoes) – both of these dishes are incredible and are favourite of ours.
Address: 119 High St, Uxbridge UB8 1JT
Bella Italia
Another incredible Italian restaurant in Uxbridge offering pizza, pasta, and all sorts of other traditional starters and main dishes.
We love their Tomino con Parma starter (Italian cheese wrapped with prosciutto ham, fresh sage, baked in the oven and served with pasta fritti) as well as the small Ciabattini Dough Bites (served with garlic butter). Of course, we also recommend their hand-stretched flatbread with Mozzarella, Garlic, and Parsley!
Aside from the classic pasta dishes like Spaghetti Bolognese and Carbonara they also have pretty unique options – the Zucca Dolcelatte is incredible (fresh tortelloni filled with pumpkin and blue cheese, served in nutmeg butter and sprinkled with toasted pumpkin seeds).
They also have incredible desserts like Tiramisu, Gelato, and Raspberry Semifreddo (frozen dessert with raspberry, pistachio, white chocolate, and marshmallow sauce).
Address: 198-200 High St, Uxbridge UB8 1LB
BarItalia
In Barltalia, you will be able to have breakfast, lunch, and dinner because they are open all day. Also, they do have a special Breakfast Menu as well as a Lunch and a Dinner one which is pretty cool. It's the perfect place to go have a nice brunch during the weekend with delicious Italian food and a few cocktails!
In their Breakfast menu, you will find fresh fruit, avocado toast, french toast, eggs benedict, breakfast pizza (tomato base, mozzarella, cherry tomato, egg, baked ricotta with prosciutto, rocket), and a lot of other breakfast options.
In their Lunch and Dinner menu, there are delicious pizzas, traditional pasta dishes, fish main dishes, grilled meat, as well as plenty of vegetarian meals.
Address: 120 High St, Uxbridge UB8 1JT
Da Remo
Da Remo is an Italian restaurant established in 1988. The food is super delicious and well-made, however, keep in mind that they do not serve pizza – the menu is focused on pasta and traditional fish and meat dishes so if you are craving pizza – pick another restaurant on our list to visit!
We highly recommend ordering the Insalata di mozzarella which is a salad with mixed salad leaves, fresh asparagus, and mozzarella with pesto. We also really enjoy the Tortelloni pasta (pasta filled with spinach and ricotta served with tomato sauce, basil), the Siciliana pasta (pasta with aubergines, garlic, tomato, melted mozzarella), and the Agnello (grilled lamb served with garlic, white wine, rosemary).
Address: Village Rd, Denham, Uxbridge UB9 5BE