Today, our team will share the best Japanese restaurants located in Milton Keynes with you so you know exactly where to go next!
We have curated a list of the finest purveyors of Japanese cuisine in the town of Milton Keynes, numbering four in total.
Akasaka
First Japanese restaurant in Milton Keynes that we love is Akasaka – definitely the most popular place in the area that offers Japanese cuisine. The interior is casual yet modern and stylish with faux cherry blossoms.
We always either start off with their Miso soup, Yakitori (chicken skewers), Soft shell crab, Prawn Tempura, or the Deep Fried Squid.
When it comes to their main dishes, they have it all – sushi, sashimi, noodles (including Yaki Udon, Yakisoba, and Ramen), Curry, Rice Dishes, and our favourite – the Black Cod Teriyaki with Rice and Salmon Teriyaki with Rice.
For dessert, we recommend the Green Tea Mochi Ice cream and the Coconut Mochi Ice Cream.
Address: Exchange House, 466 Midsummer Blvd, Milton Keynes MK9 2EA
YO! Milton Keynes
Next on our list is a Japanese chain restaurant with locations all over the UK that we have previously talked about but since they have a restaurant in Milton Keynes that we often visit, we had to feature them on this list.
We really enjoy all of their sushi and sashimi, the Japanese Fried Chicken, the Chicken Gyoza and the Prawn Gyoza, the Chicken Yakisoba (noodles with chicken, and vegetables), and the Spicy Seafood Ramen (with prawns, salmon, squid, vegetables, hot & spicy kimchi broth).
For dessert, we always get the Chocolate Dough-chi or the Strawberry Cheesecake Little Moons Mochi.
Address: Unit B, Queens Court, Silbury Blvd, Milton Keynes MK9 3ES
Legend One Sushi
Another Japanese restaurant that you have to visit is Legend One Sushi – a casual place with a modern and cosy interior, excellent service, and incredible food.
The star of the show on their menu is the sushi – from nigiri, and sashimi to maki and sushi rolls. If you love sushi then this place will definitely become your new favourite spot in Milton Keynes.
Of course, their menu also consists of Tempura, Beef Teriyaki, Tonkatsu Curry with Rice (pork), Donburi, rice and noodles dishes.
Address: Unit 2A, 344 Avebury Blvd, Milton Keynes MK9 2JH
Kobe Steakhouse & Cocktail Lounge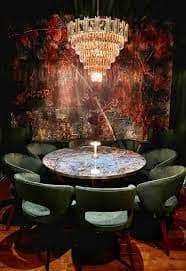 And last on our list is Kobe Steakhouse & Cocktail Lounge – a stunning restaurant with a classy interior, impressive menu, excellent service, and delicious cocktails. Now, keep in mind that this place isn't exactly a Japanese restaurant, however, they are one of the ten places in the UK that are certified to offer Japanese Kobe and Wagyu beef. Our team is a huge fan of this restaurant and the wagyu beef which is why we had to feature them on this list!
Starters include our favourite – Wagyu Beef Carpaccio (dijonnaise, pickled red onion, grapes, croutons) and the Pork Iberico yakitori skewers (with onion and chilli jam) as well as a few Mediterranean options like the Burratta (with black olives, baby carrots, minted salsa), and the Seared king oyster mushrooms. They also offer sushi.
But, of course, the star of the show that you have to try is the Wagyu Burger (with smoked cheese, pickled red onion, rocket, dijonaisse, bacon, cherry tomato salad), the Japanese Sirloin Wagyu Steak, and the KOBE Fillet.
Address: Xscape, 602 Marlborough Gate, Milton Keynes MK9 3XS