If you love Mediterranean food then check out our team's favourite restaurants in Milton Keynes that do offer divine Mediterranean cuisine!
Top 4 Mediterranean Restaurants In Milton Keynes According To Our Team
Olive Tree
We will start off with one of our favourite restaurants in general which also happens to be serving Mediterranean cuisine – Olive Tree. This place is a family-run restaurant with excellent service, very dedicated and friendly staff as well as delicious food and an impressive menu!
When it comes to their starters, we highly recommend trying their Russian Salad (potatoes, carrots, sweetcorn, gherkins, mayonnaise), the Falafel (served with chutney and yoghurt sauce), the Lamb Liver (with onion, red and green peppers, Turkish herbs), and the traditional Turkish Sigara Borek (pastry rolls with feta cheese, mint, served with mayonnaise, herb dressing).
Their main dishes include a lot of Turkish options such as lovely charcoal-grilled kebabs, seafood and fish as well as options like Lamb Guvec (clay dish with lamb, fresh tomato, red and green peppers, garlic, mozzarella, rice) and Lamb Moussaka!
Address: 199 Midsummer Blvd, Milton Keynes MK9 1EA
Greek Souvlaki
Next on our list is Greek Souvlaki – a casual yet modern Greek restaurant which we highly recommend you visit whenever you are craving Mediterranean food!
But before we get to their main dishes, we suggest you check out their salads. We really like their Greek Salad (tomato, cucumber, feta cheese, Greek Kalamata olives, green peppers, red onion, olive oil, oregano) and the Greek Chicken Gyros Salad (lettuce, tomato, cucumber, red onion, Greek Olives, olive oil, balsamic vinegar, chicken gyros meat).
Their main dishes include the famous Greek wraps – gyros and souvlaki. For example, Pork Gyros (pitta bread wrap, pork gyros meat, homemade Tzatziki, red onion, tomatoes, parsley, fries), Chicken Souvlaki (Pitta bread wrap with marinated and grilled chicken breast skewer, homemade mayonnaise and Greek mustard sauce, tomatoes, lettuce and fries), Greek Kebab (pitta bread wrap, grilled minced beef and lamb kebab, homemade Tzatziki, red onion, tomatoes, parsley, fries), and the Karditsa Greek Sausage (pitta bread wrap, grilled Greek sausage, homemade Tzatziki, red onion, tomatoes, parsley, fries).
Address: 2C Brooklands Rd, Bletchley, Milton Keynes MK2 2RN
Melis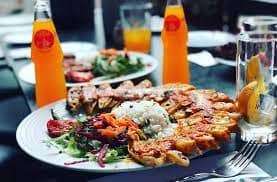 Next on our list is a favourite Turkish restaurant of ours located in Milton Keynes. Melis is a very modern yet cosy and casual place which offers not only incredible food and an impressive menu but also a shisha lounge.
Like any other Turkish restaurant, Melis offers both cold and hot starters including Sucuk (spicy Turkish sausage), Falafel, Calamari, Halloumi, Hummus, and Patlican Salad (aubergine, red pepper, tomato, red onions, garlic, fresh parsley).
Main dishes on the menu include Pide (which is a Turkish pizza), seafood, fish, charcoal-grilled kebabs, and plenty of other meat main dishes such as Kasarli Kofte (lamb meatball with cheddar cheese, herbs, tomato sauce, rice, a salad).
We really enjoy all of their grilled fish and seafood plus, of course, all of their kebabs – especially the Chicken Shish, Lamb Ribs, and Adana!
Address: CBX II EAST, 402 404 Midsummer Blvd, Milton Keynes MK9 2EA
Bella Italia
Last on our list is an incredible Italian restaurant named Bella Italia. The interior is very stylish and impressive, the food is divine and well prepared and the staff is friendly.
Their menu consists of Italian favourites such as pizza, pasta, and even Chicken Milanese.
We usually always either go for pizza or pasta – and when it comes to pasta, Bella Italia has some of the best pasta in the area! We recommend the Pollo Cacciatore (with roast chicken, pancetta, mushrooms, red onions, white wine and tomato sauce), the Ham Hock & Scamorza Carbonara (smoked cheese, grilled ham), the Pomodoro con Bufala (tomatoes, traditional tomato sauce, buffalo mozzarella), and the Marco Polo (pulled duck, spring onion, mushrooms, sweet plum sauce)!
And don't forget to leave room for dessert – their Tiramisu and Panna Cotta are very good.
Address: 12 Savoy Crescent, Milton Keynes MK9 3PU