Today, we decided to share all of our favourite Mediterranean restaurants in Sidcup with you because we know that you are looking for the best places serving authentic delicious food in combination with a great atmosphere, excellent service, and friendly staff.
Our team loves going out and trying out different restaurants whenever we have free time which is why we can help you choose where to go have lunch or dinner!
Top 4 Mediterranean Restaurants In Sidcup You Must Visit
El Iberico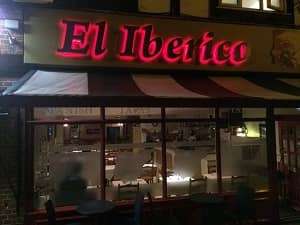 The first incredible Mediterranean restaurant we have on our list is El Iberico – providing an impressive menu with dishes from Portugal, Spain, and Italy! The venue is casual and the focus is on the food which is why we think you will love this place!
Of course, the first thing on the menu is their "Tapas" which basically means a small portion of different dishes. That way you can try more things on the menu without actually having to order the full-size dish. These tapas go very well with drinks which is why El Iberico also has an impressive menu with alcoholic drinks.
We highly recommend trying out the Pinchos de Pollo (grilled chicken skewers marinated in cumin, coriander, ginger), the Pollo Picante (chicken with chorizo, peppers and chillies), the Queso Frito (Spanish fried breaded cheese served with cranberry sauce), the Aguacate con Cangrejo (avocado, crab, mayonnaise dressing), and the Gambas con Allioli (prawns, garlic mayonnaise). These are our favourite tapas on their menu!
If you are wondering what main dishes they have on the menu, we will share our favourite ones with you – Chuletas de Cordero (Lamb cutlets, mash potatoes, mint sauce), Penne a la Carbonara, and Salmon a la Plancha (Salmon fillet, mustard, dill, cream Sauce)!
Address: 21 The Oval, Sidcup DA15 9ER
Limoncello Restaurant
The next restaurant on our list is Limoncello – an Italian restaurant serving traditional dishes in a beautiful stylish venue. The staff is super friendly and the overall service is excellent which is something very important for a good restaurant. Of course, we also love the food which is why we highly recommend this place to anyone that loves Mediterranean food!
They have a Brunch menu, a Lunch menu, and a Main menu. In the Brunch menu, you will find eggs, panini, sandwiches, burgers, pasta, and a few Italian meat dishes.
In the Main menu, you fill find delicious starters, salads, traditional Italian main dishes like pasta, seafood, fish, and meat dishes. We highly recommend ordering their Spinach and Ricotta Cannelloni with tomatoes, the Prawn & Crab Linguine with homemade tomato sauce, and the Honey Glazed Chicken served with a Limoncello Salad, coleslaw.
Address: 8-9 Marechal Niel Parade, Sidcup DA14 6QF
Shish Bar & Restaurant
Next on our list is a Turkish restaurant called Shish. If you love Mediterranean food then you are probably looking for a place where you can enjoy a delicious kebab grilled over charcoal – and Shish can offer you just that!
This restaurant is our favourite place to dine in Sidcup which is why we highly recommend you visit if you like Turkish food!
They have traditional hot and cold starters – Tarama, Kisir (crushed wheat, herbs, tomato, spring onion,
peppers, olive oil, lemon juice), Dolmades (stuffed vine leaves with rice, onion, peppers, pine nuts, herbs), Halloumi Cheese, Borek (deep-fried pastry filled with feta cheese, spinach), etc.
Our favourite main dishes are Adana Kebab, Lamb Ribs, Chicken Shish – all of which are served with rice and a salad.
Address: 188 Halfway St, Sidcup DA15 8DJ
Hayat Turkish Restaurant
And the final Mediterranean restaurant we have for you is Hayat – another incredible Turkish place that serves delicious food you need to try. In Turkish, Hayat means Life – and for the owners and the staff at this restaurant tasty food prepared with quality fresh ingredients is life which is why they decided to name the restaurant this way.
On their menu, you will find traditional hot and cold starters, salads, grilled meat, fish, and seafood. Of course, they also have Vegetable dishes so if you don't eat meat you will still be able to order an authentic Turkish dish.
We highly recommend all of their starters, the Adana, the Mixed Grill (marinated lamb shish, chicken shish, Adana kofte, chicken wings, lamb chops, lamb ribs served with a salad), and the Grilled seabass!
They also have incredible desserts you need to try – our favourite is their homemade baklava!
Address: 25 The Oval, Sidcup DA15 9ER