Spanish food is incredibly tasty and everyone seems to love their tapas especially when they are served with a nice drink. Our team happens to love Spanish cuisine as well which is why we decided to share all of our favourite Spanish restaurants in Ealing where you will find delicious tapas and main dishes!
Top 4 Spanish Restaurants In Ealing You Must Visit!
Tapelia
First on our list is Tapelia – an incredible restaurant that served delicious Spanish tapas, freshly cooked main dishes, and has a huge selection of incredible wines and beers. We highly recommend you visit this place not only because of the tasty food and nice drinks but also because the atmosphere is super welcoming and the staff is friendly!
Enjoy an incredible white wine with Pulga De Jamon (Ham with Olive Oil serve with Bread), Ensalada De Espinaces (Spinach, Tomato, Cucumber and Avocado), and plenty of other amazing tapas and salads.
They also have delicious paellas – Pollo y Chorizo is our favourite (Chicken and Chorizo). On their menu, you will also find plenty of unique meat and fish dishes like Datiles Con Bacon (Dates and Nuts wrapped in bacon with a cherry sauce), Lubina A La Plancha (Grilled Seabass with Garlic, Olive Oil and
Vegetables), and Carrillada (Slow cooked pork).
Address: 92 Northfield Ave, London W13 9RT
El Toro Loco
El Toro Loco is another favourite Spanish restaurant of ours that we often go to whenever we are craving a nice drink and delicious Spanish food.
Aside from their selection of white, red, and rose wines, they have delicious starters that go very well together. For example, we love their Mejillones al Vapor (steamed mussels, mojo) and the Puntillas (deep-fried baby squid with a salad and mojo).
Then you can choose between incredible meat main dishes and fish main dishes. They also have vegetarian dishes like Patatas Bravas (potatoes in spicy tomato sauce) and Champinon Al Ajillo (mushrooms cooked in garlic).
And last but not least don't forget to get an apple and cinnamon tarte – an incredible dessert!
Address: 34 Haven Green, London W5 2NX
La Rueda Tapas Bar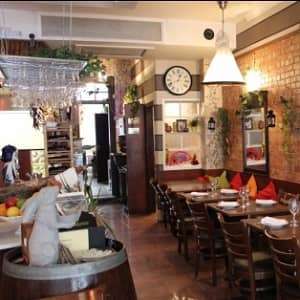 If you are looking for a place that offers authentic Spanish tapas alongside great drinks and wines then you will definitely love La Rueda Tapas Bar.
We highly recommend their Escalivada (aubergines, peppers, shallots with pomegranates sauce), the Chorizo al Vino (chorizo in red wine sauce), the Pato (duck breast with ginger and pears, chef's spicy soured sauce) as well as the Melhojas De Cetas (flamed prawns and wild mushrooms in puff pastry). Of course, they have plenty of other incredible options with vegetables, meat, seafood, and fish.
Another incredible thing on their menu is the Paellas – especially the one with monkfish, cuttlefish, prawns, and sepia ink called Paella Negra. It's for at least two people so if you happen to go to La Rueda Tapas Bar with a group of friends then definitely get a Paella to share!
Address: 12 Bond St, London W5 5AA
Tapinos
And last on our list is Tapinos – a favourite Spanish restaurant and bar of many including our team. We do love going there because of the great atmosphere, the music, the friendly staff, and, of course, the incredible food and drinks options!
Tapinos literally means tapas and wines in Spanish which is the perfect way to describe this place!
They have incredible boards to share with Cured meats and cheeses that go really well with all the wines. They also have some traditional starters like Croquetas de jamón (serrano ham croquettes with sweet onion sauce), Pechuguitas de Pollo (chicken breast breadcrumbed and deep-fried), Chuletas de Cordero (Grilled lamb chops with red pepper), and plenty of seafood options. We love their Sardinas a la plancha (sardines with sea salt) and the Pulpo a la gallega (octopus with potatoes).
They also offer traditional paellas everyone loves as well as salads and even vegetarian main dishes!
Address: 114 S Ealing Rd, London W5 4QJ