If you love Turkish food then Bermondsey is definitely the place to be in! With so many incredible Turkish restaurants in the area, you might have a hard time determining which place is worth visiting… and today, our team will share 4 of their favourite places in Bermondsey that offer the best traditional food.
Top 4 Turkish Restaurants In Bermondsey You Must Visit
Lokma Turkish Grill & Bar
First on our list is definitely one of our favourite Turkish restaurants in Bermondsey – Lokma! It's a beautiful place with a colourful and vibrant interior, delicious traditional food with a bit of a modern twist to it, excellent service, and very friendly staff. It's the perfect place to visit with friends for a nice dinner.
Of course, starters include hot and cold options such as Hummus, Dolma Vişneli (stuffed vine leaves with rice, herbs, sour cherries, raisins, pinenuts), Falafel with hummus, Karides Tava (king prawns sautéed in tomato sauce with onion, garlic, mushroom, peppers), and Grilled halloumi cheese.
When it comes to main dishes, we highly recommend their Charcoal Grills such as the Adana Mix Chicken and Lamb Kebab, Tavuk But (spicy chicken thigh), and Lamb and Chicken Shish Kebab all of which are served with bulgur and a side salad.
Address: 11 Bermondsey Square, London SE1 3UN
Tower Mangal Turkish Restaurants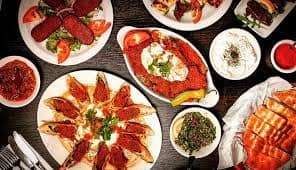 Another lovely Turkish restaurant you have to visit is Tower Mangal. It's a little place with a casual interior and excellent traditional food.
Our favourite starters are Tabbouleh (finely chopped parsley, crushed wheat, tomatoes, spring onion, lemon juice, pomegranate sauce), Spinach Tarator (spinach, garlic, yogurt), the Spicy Turkish Sausage, and their incredible Sigara Boregi (which is a pastry with feta cheese).
Main dishes include kebabs such as Chicken Shish, Lamb Doner, Sarma Lamb Beyti (lamb, bread, tomato sauce, butter, yogurt) and Chicken Shish Yoghurt (chicken skewers, bread, tomato sauce, yogurt, butter), a lot of doner wraps, delicious Turkish pizzas, and much more!
Address: 55-57 Tower Bridge Rd, London SE1 4TL
Tas Restaurant Borough
Next on our list is Tas – a beautiful sophisticated restaurant with a stunning wooden interior and an impressive menu. Visiting this place is an overall excellent experience due to the lovely ambiance.
When it comes to their starters, of course, they have hot and cold options like Ispanakli Yogurt (spinach, yogurt, garlic), Falafel, Borek (pastry with feta cheese), and Mucver (deep-fried courgette fritters with goat's cheese, onions, carrots, dill, parsley with garlic sauce).
Main dishes include the traditional charcoal-grilled kebabs we all love, a few oven dishes you have to try such as a Tavuk Guvec (with chicken, mushrooms, onions, tomatoes, ginger, coriander) and Moussaka as well as a huge selection of fish dishes. We love their Levrek (grilled sea bass) and the Kalamar Tava (squid rings with a sweet & sour sauce and a salad).
Address: 72 Borough High St, London SE1 1XF
Flamin Mangal
And last but definitely not least on our list is Flamin Mangal – yet another incredible Turkish restaurant. If you love Pide as well as charcoal-grilled meat then this is the place to visit in Bermondsey!
We highly recommend getting their Mix Grill (which includes a chicken and lamb shish, Adana kofte, lamb chop, chicken wings, tomato, rice, and a salad) which is a great way to try most of their grilled meat.
When it comes to their Turkish pizzas, you are going to love how many options they offer – for example, a Minced Lamb Pide, a Spinach Pide, Egg and Cheese Pide, and even Chicken Pide.
Other favourite dishes on their menu of ours are the Meat Moussaka, Chicken Iskender (chicken, yogurt, butter, and tomato sauce), and the Lamb Guvec (lamb, onions, peppers, aubergine, mushrooms, tomato, special spices, rice, a salad).
Address: 126 Rye Ln, London SE15 4RZ