There are so many incredible Turkish restaurants located in Newham that it can be pretty hard to choose where to go have lunch or dinner. This is why we decided to gather all of our favourite Turkish places in the area that offer delicious traditional food, an incredible atmosphere, and excellent service – so you know exactly where to go!
Top 4 Turkish Restaurants In Newham According To Our Team
Istanbul Restaurant
Istanbul Restaurant is a small and casual restaurant offering incredible Turkish food. The portions are big, the prices are affordable, and the staff is super friendly. Of course, this is exactly what we are looking for in a good restaurant so we highly recommend you visit this place whenever you are craving delicious kebabs!
The first thing on their menu is all of the starters – hot and cold ones, of course! We recommend starting off with their Halloumi with a salad, the Borek (pastry filled with feta cheese, parsley), the Cacik (cucumbers, garlic, yoghurt), and the Patlican Ezme (aubergine with yoghurt and garlic)! These are our favourite starters!
Next, they have traditional kebabs – all of which are served with rice and a salad. We love their Lamb Doner and the Lamb Shish, however, if you are visiting with a group of friends or family then we recommend the Istanbul Special because it includes a lamb skewer, a chicken skewer, 1 adana kebab, 3 chicken wings, 1 lamp chop, 2 lamb ribs with lamb, a chicken doner. It's a great way to try out a lot of things from their menu without paying the full price!
They also offer delicious Turkish pizza called Pide as well as a few other traditional main dishes!
Address: 753 Romford Rd, Aldersbrook, London E12 5AW
Charcoal
The next incredible Turkish restaurant we love visiting in Charcoal! Again, they offer excellent service, the staff is friendly and the food is delicious – always prepared from fresh ingredients!
They have traditional hot and cold starters – our favourites are the Humus, Yaprak Sarma (Stuffed Vine Leaves with Rice, Mint, Parsley), the Spinach Tarator (Spinach with Yogurt and garlic), and the Sigara Boregi. If you are visiting with a group of friends or family then definitely get both the Mixed Hot Meze (includes Falafel, Halloumi, Calamari, Sigara Boregi, Sucuk, Onion Rings) and the Mixed Cold Meze (includes Humus, Tarama, Cacik, Patlican Soslu, Yaprak Sarma, Spinach Tarator, Kisir, Olives). That way you will be able to try all of their starters for half the price!
Then they have all of the traditional Turkish main dishes – from kebabs to "Tava" Specials, and much more. We love the Sarma Tavuk Beyti (Marinated Minced Chicken with garlic wrapped in a Lavash Bread with Cheese, Tomato Sauce, Butter), the Yogurtlu Tavuk Shish (Chicken Breast, Rice, Bread, Yoghurt, Sauce, Butter), and the Sac Tava (Lamb, Tomato, Onions, Garlic Rice, a Salad)!
Of course, don't miss ordering their Baklava for dessert!
Address: 279 Prince Regent Ln, London E13 8SD
Meydan Sofrasi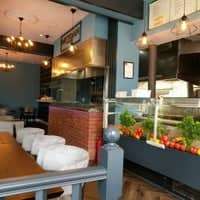 Next, we have Meydan Sofrasi – a casual Turkish restaurant perfect for a quick lunch or dinner. We really love their food and how it has that "home-cooked" feel to it which is why we highly recommend you visit!
Of course, just like any other Turkish restaurant, the first thing on their menu is all of the hot and cold starters – from Hummus, Kisir, and Imam Bayildi to Lahmacun (Turkish pizza with minced lamb, onion, tomatoes, garlic, parsley, red peppers) and Falafel!
Then they have kebabs all of which are served with rice, chips, and coleslaw. We highly recommend the Adana Kebab, the Lamb Chops, and the Chicken Wings! Of course, they also offer other popular traditional main dishes some of which have meat, seafood, fish, or vegetables!
Address: 67 Barking Rd, London E16 4HB
Sufi Turkish Restaurant
And the last restaurant we have on our list is Sufi – a hidden gem in Newham. For some reason, this place isn't as popular as the other restaurants on our list, however, since we enjoy their food so much we had to feature them on our list.
The menu includes all of your favourite Turkish starters, incredible salads, kebabs, fish main dishes, wraps, and so much more.
We usually always start off with their Lentil soup in combination with a Falafel and Lahmacun. Then we move on to their main dishes. We highly recommend their platters – especially the Sufi Special which is perfect for 4-5 people (4 Lamb Chops, 8 Lamb Ribs, 1 Adana, 1 Chicken Beyati, 1 Lamb Beyati, 2 Lamb Shish, 2 Chicken Shish, 8 Pcs Chicken Wings, served with Mixed Doner, Saksuka, Cacik, Hummus, Rice, Bulgar, 4 Bread, 3 Bowls of Salad)!
And finally – don't miss out on their desserts. The Baklava and the Rice Pudding are incredible!
Address: 35 Leytonstone Rd, London E15 1JA