If you love Turkish cuisine then you are probably wondering which restaurants in Romford that offer Turkish food are worth visiting. Well, our team has decided to gather all of their favourite places in the area and share them with you!
Top 4 Turkish Restaurants In Romford According To Our Team
Mangal Meze Restaurant
Starting todays' list of the best Turkish restaurants in Romford with one of our favourite places – Mangal Meze, a lovely restaurant with a stylish and modern interior and delicious traditional food that you have to try!
Starters include Tarama, Cacik (cucumber, dried mint, garlic, yoghurt), Stuffed vine leaves, Lentil Soup, Lahmacun (Turkish pizza), and plenty of other incredible options that we all know and love!
When it comes to their main dishes, you can't go wrong with ordering one of their Wraps like a Lamb Doner Wrap, Adana Kofte Wrap, or even a Falafel and Hummus Wrap if you don't eat meat or dairy products!
We also really enjoy all of their traditional charcoal-grilled kebabs – Lamb Shish, Adana Kebab, Chicken Beyti, etc., all of which are served with rice and a salad.
Address: 100 South St, Romford RM1 1RX
Veyso's Romford Restaurant
Next on our list is yet another super stylish and cosy Turkish restaurant with an impressive menu featuring the most popular Turkish dishes we all know and love.
Of course, the first thing on the menu is all the cold and hot starters – from Cacik, Saksuka, and Tabule (finely chopped parsley, wheat, tomatoes, onions, lemon) to Falafel, Sigara Boregi, and Grilled Octopus.
Main dishes include fish and meat main dishes as well as traditional charcoal-grilled kebabs, salads as well as special yoghurt dishes. We love everything on their menu so we won't give you any recommendations – just know that whatever you order, you won't be disappointed!
Address: 19 Clockhouse Ln, Romford RM5 3PH
Kervan Saray
Next Turkish restaurant that you have to visit is Kervan Saray – a beautiful venue, friendly staff, excellent service, impressive drinks menu, and delicious food!
We usually start off with their Yaprak Sarma (stuffed vine leaves with rice, herbs), the Russian Salad (potato, peas, pickle mixed in mayonnaise), the Lentil Soup, or the Chicken Liver (with onion salad)!
Then we move on to their main dishes – a traditional Chicken Shish, Chicken Beyti (served with rice and salad), House Special
Sac Kavurma (diced lamb, green peppers, onion, served with rice, bread and salad), or the Halep Kebab (lamb shish, Adana kofte, bread yoghurt, butter, tomato sauce)!
And for dessert, we highly recommend you try their Baklava or the Rice Pudding – these are our favourite Turkish desserts!
Address: 66 Masefield Cres, Romford RM3 7PB
Ottomans Turkish Restaurant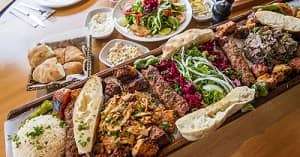 And the last restaurant on our list that we are certain you are going to fall in love with is Ottomans Turkish Restaurant. It's a lovely little casual restaurant with an incredible staff and delicious food. We go there at least once a month whenever we are craving Turkish food and we don't want to go anywhere fancy.
Of course, starters include traditional Falafel, Humus Sucuk, Russian Salad, etc.
Main dishes include traditional kebabs – Lamb Doner, Chicken Doner, Adana Lamb Kofte, Lamb Ribs, Iskender Kebab, and plenty of other charcoal-grilled meat options. They also offer wraps.
When it comes to their desserts, they have a delicious Baklava that you have to try!
Address: 176 Mawney Rd, Romford RM7 8BU