Today, our team is going to tell you all about the best Turkish restaurants located in Stevenage that you can visit!
A few of these places aren't technically restaurants but casual kebab shops with a very small dine-in area which are perfect for takeaway and home delivery when you are craving Turkish food and would rather eat it in the comfort of your own home rather than sit in a restaurant.
Top 4 Turkish Restaurants In Stevenage According To Our Team
Tarla Restaurant
We are starting today's list with one of the best Turkish restaurants in Stevenage that you have to visit – Tarla. It's a beautiful place with cosy and stylish interior with exposed-brick walls, an impressive menu featuring all of our favourite Turkish dishes as well as a friendly staff.
Starters include cold and hot options such as Baba ganoush (aubergine mixed with grilled peppers, yogurt, tahini, olive oil, lemon), Hummus, Stuffed vine leaves (with rice, grapes, herbs), Grilled Halloumi, Sigara borek (pastry with feta cheese, dill), and Chicken liver.
Main dishes include our favourite charcoal-grilled kebabs like Adana, Chicken shish, Lamb chops, and Chicken beyti (minced skewered chicken, tomato and mixed peppers sauce, melted cheese, rice, yogurt). We also recommend their Lamb moussaka (served with yogurt and rice), the Grilled Sea bass (with mashed potatoes, mixed veggies, and hollandaise sauce), and the Calamari (served with chips, salad, and homemade tartar sauce).
When it comes to their desserts, you can never go wrong with Baklava or Rice Pudding.
Address: 23-25 Middle Row, Stevenage SG1 3AW
Misya Meze & Grill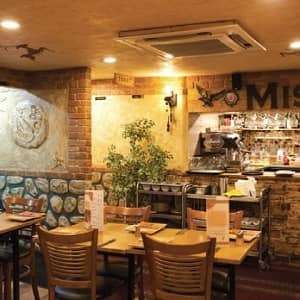 Misya is another incredible Turkish restaurant located in Stevenage that you are going to fall in love with. The interior is rustic yet chic and modern, the food is delicious, and the service is excellent which is exactly what we are looking for in a good restaurant.
When it comes to their starters, we highly recommend getting a Mixed Cold Meze (which includes hummus, tarama, cacik, kisir, barbunya pilaki – beans cooked with potatoes in tomato sauce, and patlican soslu – fried aubergine cubes with vegetables, special tomato sauce) as well as a Mixed Warm Starters
(which includes 2 pieces falafel, 2 slices of Turkish sausage, 2 slices of halloumi, 2 pieces sigara boregi, and 2 pieces calamari). Both these options are great when you want to try more things yet not pay the full price or get a full portion.
Main dishes on the menu include the traditional charcoal-grilled kebabs, plenty of seafood and fish dishes, and other traditional meat main dishes like the Meat Musakka (layers of minced meat, aubergine, green pepper, tomatoes, onions, bechamel sauce).
Address: 123 High St, Stevenage SG1 3HS
Bingol Kebab
Next on our list is not a restaurant but a kebab shop which is a casual place to get your favourite Turkish food. They have a small dine-in area which is perfect if you are in a hurry and need a quick lunch or dinner, however, they also offer takeaway and home delivery which is very convenient.
We highly recommend their Lamb Doner Kebab (minced lamb and pitta bread), Chicken Kebab (skewered cubes of chicken with onions and red peppers, served with pitta bread), and the Adana Kebab (two Adana kofte, chopped bread, onions, special sauce).
Address: 97A, High Street Old Town, Stevenage SG1 3HR
Stevenage Charcoal Grill
And last but not least is another kebab shop where you can find delicious traditional Turkish food.
We usually start off with their Hummus (which comes with pitta bread), the Falafel, and Calamari (with tartar sauce).
Of course, when it comes to their main dishes, we usually get charcoal-grilled kebabs like Adana Kofte Kebab, Lamb Shish Kebab, or Chicken Shish Kebab – all of which are served with rice, and a salad.
Address: 114 Oaks Cross, Broadwater, Stevenage SG2 8LU