Did you know that some of the best Turkish restaurants in London are actually located in Watford? So if you love Turkish cuisine and you do live in the area – you are very lucky!
And because our team really enjoys Turkish food, we will share all of our favourite restaurants in Watford that offer the best traditional cuisine!
Top 4 Turkish Restaurants In Watford According To Our Team
Derwish Meze & BBQ Restaurant
First on our list is, of course, one of our favourite Turkish restaurants in Watford – Dewish Meze & BBQ! We love the casual and traditional interior, the excellent service, and the delicious food. The menu is filled with all of our favourite Turkish dishes – starters, main dishes, and even deserts!
Cold and hot straters include Cacik (cucumber, mint, garlic, yoghurt), Tabbouleh salad (crushed wheat, parsley, red peppers, spring onion, olive oil, lemon juice, pomegranate juice), Vine Leaves stuffed with rice and herbs, Falafel, Lamb Liver, and many more options.
When it comes to their main dishes, we highly recommend their Grilled Sea Bass, the Halep Kebab (includes grilled minced lamb, bread, special tomato salsa, melted butter, rice, and salad), the Yoghurt Adana Shish (with adana kofte, bread, yoghurt, tomato sauce, butter, rice, a salad), and the Sarma Chicken Beyti (chargrilled minced chicken, peppers, garlic, spices, homemade bread, yoghurt, tomato sauce, butter, rice, a salad).
We also really enjoy their Pide which is a traditional Turkish pizza!
Address: 163-165 St Albans Rd, Watford WD24 5BD
Opuz Kitchen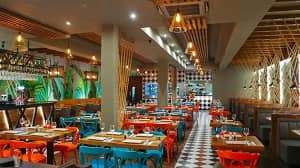 Next on our list is Opuz Kitchen – a very sophisticated Turkish restaurant with a vibrant and stylish interior, delicious food, excellent menu, and super friendly staff. Visiting Opuz is definitely an incredible experience which is why we highly recommend eating there!
Our favourite starters include the Babaganoush (aubergine puree with garlic, yogurt, tahini, lemon, served with homemade bread), the Sigara Boregi (pastry filled with halloumi cheese, spinach, herbs), and the Falafel.
Main dishes include traditional charcoal grilled kebabs served with rice and a salad such as Chicken Shish, Spicy Lamb Skewer Adana, and Lamb Cutlets.
For dessert, we highly recommend their homemade baklava which is served with a vanilla ice cream.
Address: 7 King St, Watford WD18 0BW
Zara Mangal
Next Turkish restaurant that we love visiting is Zara Mangal – a very casual place with excellent service, relaxing ambiance, and delicious food. This restaurant is perfect for a quick lunch or dinner after work. Of course, they also offer takeaway and home delivery so keep that in mind the next time you are craving Turkish food yet don't feel like eating out.
Starters include traditional Hummus, Grilled Turkish Sausage, Halloumi, Lahmacun (served with a salad), and Falafel.
When it comes to their main dishes, we recommend their wraps – especially the Lamb Doner and Lamb Shish. Of course, they also have kebabs such as Adana Kofte and Lamb Chops.
They also have a very popular meal deal which is called Zara House Special Meal and includes mixed starters, 1 lamb shish, 1 chicken shish, 1 lamb kofte, mixed doner, chicken wings, rice, chips, a bottle of soft drink.
Address: 40 Market St, Watford WD18 0PY
Mangal Plus
And last on our list is yet another very casual Turkish restaurant – Mangal Plus.
Their menu mainly consists of wraps and kebabs which we love. We recommend their Lamb Doner Kebab and Chicken Doner Kebab which are served with pitta bread, a salad, and a special sauce.
We also really enjoy their Lamb Mixed Kebab (with lamb shish, lamb kofte, lamb doner, bulgur, rice, salad, pita bread, sauce) and the Chicken Mixed Kebab (with chicken shish, chicken kofte, chicken doner, bulgur, rice, salad, pita bread, sauce).
For dessert, we always get their homemade baklava!
Address: 156 St Albans Rd, Watford WD24 4FT