If you live in Enfield and you want to grab authentic Indian food for lunch or dinner then keep on reading because our team has gathered the best Indian restaurants in Enfield for you!
We humbly present to thee the most exquisite and palatable Indian gastronomic establishments in Enfield, which we strongly advise thy esteemed selves to partake in forthwith.
Chaseside Indian Restaurant
This amazing family-run restaurant with a simple and minimalistic venue offers some of the best Indian food in Enfield – and you need to visit!
Once you go, we want to recommend you order their Samosa starter (pastry filled with either seasonal vegetables or spicy meat depending on your preferences) because it's delicious!
As a main dish, we suggest their Traditional Curry Dishes which bring that authentic Indian flavour! Of course, they also have Tandoori BBQ Dishes, Balti Dishes, and all sorts of other unique meals prepared with vegetables, seafood, and meat!
Keep in mind that the menu is huge and there are a lot of interesting options there so you might need a few minutes before you are ready to order!
Address: 135-137 Chase Side, Enfield EN2 0PN
Saathi Restaurant
Saathi Restaurant is one of our favourite Indian restaurants – not only is the food delicious but the staff is also extremely friendly.
Again, keep in mind that their menu is long and you might have trouble deciding which dish to order which is why you will probably return several times in order to try as many things as possible off of the menu!
Our favourite dishes on the menu are the Tikka Masala Chicken (cooked with coconut and almond), the King Prawn Biryani, Dansak Lamb, and the Rogan Josh Chicken!
If you don't eat meat then Saathi Restaurant have an entire section on their menu with vegetable main dishes as well as side dishes!
Address: 142 Chase Side, Enfield EN2 0QX
The Poppadom
This amazing small restaurant in Enfield is a hidden treasure that not many know of which is why we have included it in our list. The food they offer is incredible and is always prepared from the freshest ingredients! Also, the prices of everything are extremely affordable!
We love their Chicken Passanda that can be prepared with any meat, prawns, and even vegetables! Also, the Badami Sag Gosht (marinated lamb in garlic, ginger and coriander cooked with spinach, onions, tomatoes, peppers, cashew nuts) and the Chilli Supreme which are Chef's speciality dishes are incredible!
Address: 73 Windmill Hill, London, Enfield EN2 7AF
Spirit Fire Restaurant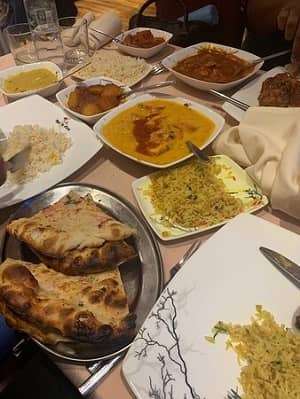 Another amazing Indian restaurant is Enfield – Spirit Fire! You definitely need to visit this place because they make some of the best Tandoori Dishes!
As a starter, we recommend getting chips and a sauce of your choice (the Raitha is amazing)!
For your main dish, we advise getting the Tandoori Shashlik – it's incredible! It's a mixed grill of chicken tikka, lamb tikka, sheek kebab, tandoori prawns, tandoori chicken with spicy sauce, tomatoes, green peppers, onions, a salad, and yoghurt mint sauce – and all of this for £12.95 only!
Address: 17 Queen Anne's Pl, Enfield EN1 2QB
Albany Tandoori
If you are craving a biryani dish then we highly recommend visiting Albany Tandoori because they prepare an amazing biryani!
We really enjoy getting the Prawn Biryani – it's a super light and fresh dish that fills you up. Aside from delicious Biryani, they also have other traditional Indian food like Tandoori, Curry, Rogan, Korma, Malaya, Dansak, etc.
Everything on the menu is tasty and well-prepared so you won't regret ordering from Albany Tandoori!
Address: 571 Hertford Rd, Enfield EN3 5UL