Are you a huge fan of Italian food? Well, so is our team! We can't get enough pasta and pizza which is why we are always searching for good Italian restaurants in Barnet.
Today, we will share some of our favourite places in the area that offer divine food and excellent service – so you know where to go!
Top 5 Italian Restaurants In Barnet According To Our Team
Ci Vediamo Li
The first incredible Italian restaurant on our list is Ci Vediamo Li which translated to "See You There". It's a small restaurant that is extremely stylish and chic – and there even is a fireplace making the whole ambiance very cozy and warm! But, of course, the star of the show is the food.
First on their menu are all of the incredible starters – from Manzo Salato (homemade salt beef, a salad, sourdough bread) to our personal favourite – the Gnocchi with mozzarella and a spicy tomato sauce!
Next on the menu are all of the pasta dishes as well as the meat and fish main dishes. Keep in mind that Ci Vediamo Li does not offer pizza so if you are craving some delicious Italian pizza then check out our other options on this list!
We highly recommend trying out their Crab Squid Ink Tortelloni with prawns, the Spaghetti Alla Puttanesca (with chili, anchovies, capers, tuna, sun-dried tomatoes), the Collo di Agnello (lamb neck fillet with cream), and the Salmon with passion fruit sauce!
If you love desserts then definitely order their homemade tiramisu or the Limoncello Semifreddo!
Address: 18 Lytton Rd, New Barnet, Barnet EN5 5BY
L'Antica Pizzeria
Now, if you are craving pizza then definitely head to L'Antica. Of course, they have plenty of other options on their menu like pasta, however, we are amazed at how delicious the pizza is so you have to try it!
But, of course, before we order pizza, we start off with the Burrata or the Gamberoni Alla Griglia (king prawns with garlic, chilli, lemon with rocket).
They also have incredible salads you can order – for example, the Rucola & Parmigiano (rocket, cherry tomatoes, parmesan, balsamic vinegar, extra virgin olive oil) and the Giulio Cesare (mixed leaves, cherry tomatoes, grilled chicken, parmesan, dressing) are our favourites!
And, of course, we can't forget to mention their tasty desserts. We highly recommend the Dolce Capri (lemon sorbet with Limoncello liqueur), the Baba (Neapolitan dessert with rum liqueur), and the Pizza with Nutella!
Address: 1 Church Passage, Chipping Barnet, Barnet EN5 4QS
Melange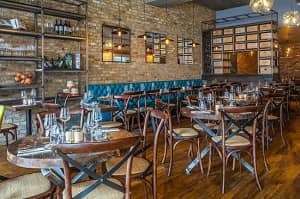 Next on our list is Melange – a stylish restaurant with wooden floors, brick bright walls, and incredible food! The menu is a mix of Italian and French cuisine and we think that this is very refreshing because you can taste a lot of different dishes in one place!
We recommend you start off with their Calamari with homemade Tartar sauce then move on to their pasta or their other fabulous main dishes. We really enjoy the Asparagus and mint risotto (with white wine, garlic, shallots, French beans, parmesan), the Seafood Linguine, or the Pollo con Funghi (chicken, truffle, mushrooms, creamy sauce).
Address: 135 High St, Barnet EN5 5UZ
Carluccio's
Next, we have a pretty popular Italian restaurants chain popular all over the UK. If you have never been to Carluccio's then we highly recommend you visit whenever you are craving Italian food – not only is everything delicious but the atmosphere is incredible (and the venue is beautiful)!
We highly recommend you start off with Garlic Focaccia with Mozzarella, Bocconcini (deep-fried mozzarella in lemon and marjoram breadcrumbs, served with spicy tomato sauce), or the Burrata!
Next on the menu, you will find all of the delicious pasta options as well as the other traditional Italian main dishes. We love their Ricotta and Spinach Ravioli, the Caserecce Piccante (pasta with spicy Italian sausage, rosemary, chili, tomato sauce, burrata) as well as the Chicken Milanese!
Address: The Spires, Shopping Centre, High St, Barnet EN5 5XY
Al Fresco
And the last Italian on our list is Al Fresco – another pretty popular place in Barnet that you have probably already been to. The service is excellent, the food is tasty, the staff is friendly, and the venue is beautiful – what more can you ask for?
Their starters are incredible – we recommend you order either the Antipasto di Salumi (selection of Prosciutto di Parma, Salame Piacentino, Salame Ventricina, Speck and Mortadella, served with marinated baby onions, focaccia, pane carosau), the Polpette Rustiche (beef and veal meatballs with parmesan, tomato sauce, ciabatta), or the Avocado with Prawns!
Then move on to their pizza, pasta, or meat or fish main dishes. We really enjoy the Paccheri Alle Melanzane which is vegan (pasta, aubergines, cherry tomatoes, black olives, tomato sauce, pecorino), the Spaghetti Alla Carbonara, the Grilled Salmon (with peas and zucchini) as well as the Anatra (duck breast with herbs, gravy, potatoes, roasted carrots).
Address: Station Parade, 21-22 Cockfosters Rd, London, Barnet EN4 0DW