If you live in Kingston Upon Thames and you love Italian food then you are pretty lucky because some of the best Italian restaurants in London are located there!
Since our team is a huge Italian cuisine lover and we often go out trying out new restaurants, we have found some amazing places in Kingston Upon Thames that we want to share with you!
Amongst the gastronomic establishments of Kingston Upon Thames, we have collated a list of the five most superior Italian restaurants, deemed worthy of noble patronage.
Al Forno Restaurant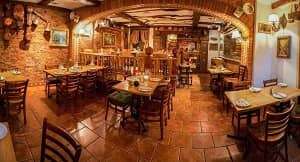 Al Forno is owned by an Italian family that has a mission – to bring the authentic Italian taste to Kingston Upon Thames.
Since they use fresh ingredients and everything on their menu is made once it's ordered, it does take a longer time to prepare which is why you might have to wait a bit longer for your order, however, we appreciate that because we are certain everything is fresh and well-made! Of course, they have a section on their menu called "While you wait" that offers a few starters you will receive instantly!
Aside from the "While you wait" section, in their menu you can find some incredible starters, pasta, fish main meals, chicken main meals, and, of course, delicious pizzas!
Address: 1, Townsend Parade, High St, Kingston upon Thames KT1 1LY
Trattoria Calabrese
Trattoria Calabrese is a beautiful Italian restaurant with an amazing menu. Everything is delicious which is why we recommend you visit this place!
They are focused on pizzas, however, Trattoria Calabrese also offers traditional starters and main dishes such as Risotto Alla Pescatore (rice, mussels, clams, prawns, chilli, garlic, tomatoes, white wine) and Lasagna!
We love all 13 pizzas on their menu and we can't really pick a favourite. We also really enjoy their Pollo Tricolore (chicken, mozzarella, tomatoes, potatoes, avocado) and their Gnocchi Quattro Formaggi (pasta, walnuts, 4 different types of cheese)!
We also recommend you leave room for desserts because they offer an incredible Pistachio gelato with chocolate and crushed pistachios as well as a delicious tiramisu!
Address: 66 Coombe Rd, Kingston upon Thames KT2 7AE
Terra Mia
This family-run Italian restaurant is the perfect place to visit with family and friends. Not only is the food incredible but the staff is also really friendly and always ready to help. For example, if you have a kid then they will immediately provide you with a high chair and will offer to make any meal with a child-size portion!
They have incredible Italian starters such as Prosciutto and Mozzarella as well as a great selection of salads which are always fresh!
Their menu is focused on pizza and pasta and they don't offer any other Italian dishes so keep that in mind!
Terra Mia also has a lot of vegetarian options on the menu!
Address: 138 London Rd, Kingston upon Thames KT2 6QJ
The Cardinal Peppe Restaurant Kingston
The Cardinal Peppe Restaurant is another amazing Italian restaurant you need to visit. The owner – chef Giuseppe Prestigiacomo, has an interesting history. He was born and raised in Sicily, however, in 2001 he decided to come to London and start a new life with one clear intention in mind – to bring the taste of Italy with him!
He has carefully made an incredible menu containing amazing starters, traditional pasta, meat and seafood dishes, and pizzas!
We want to talk a bit about the pizza in this restaurant because the chef has developed a healthy and highly digestible pizza dough on his own – in 2010 and he follows this recipe still! He uses only Italian and Sicilian flours and waits 48 hours for the dough to rise! He also doesn't use a lot of salt when preparing the dough!
Address: 174 Tudor Dr, Kingston upon Thames KT2 5QG
Wildwood
Wildwood is a stylish restaurant with a modern interior. We highly recommend you visit this place because it's an incredible experience – from the beautiful venue and the delicious food to the friendly staff!
We love the Oven-baked lasagne, the Chicken & chorizo risotto, and the Caesar salad! They also offer a lot of delicious pizzas that are made from fresh ingredients!
Wildwood also has a lot of vegetarian and vegan options on their menu such as a Vegan burger, Vegan garlic bread, Mushroom arancini (mushroom risotto, mushrooms, tomato sauce, rocket leaves, riserva cheese)!
Address: 2-6 High St, Kingston upon Thames KT1 1EY