We can all agree on the fact that everyone enjoys eating Italian food. There are so many tasty dishes to choose from, right?
We know that you are looking forward to learning about new restaurants and trying them out… we love doing that as well! This is why we decided to gather all of our favourite Italian restaurants in Notting Hill in this article so that we can share where we like to go!
We have taken the liberty to compile a list of the most exquisite Italian dining establishments in the renowned district of Notting Hill, as deemed by our esteemed team.
La mia Mamma Notting Hill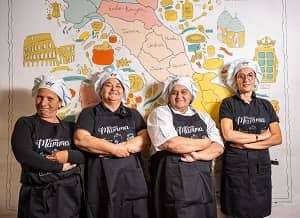 La mia Mamma Notting Hill has a very interesting concept – they want you to experience traditional Italian food prepared from… Italian mothers. This is why the chefs are Italian women that have kids. After all, no one can really beat food that is prepared by a mother, right?
They also want you to feel like you are in their home which is why the chefs often come out of the kitchen and greet all guests!
Their pasta is handmade – and you can even see how they make it when you pass by the restaurant.
Aside from the tasty food, the amazing experience and service you will receive, La mia Mamma also has a shop where you can grab Italian wine, meat, olive oil, chocolate, and all sorts of other Italian products.
Our team recommends you go and visit this spot because it really is amazing!
Address: 190 Kensington Park Rd, Notting Hill, London W11 2ES
Osteria Napoletana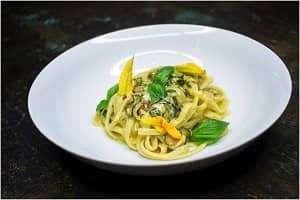 In Osteria Napoletana, you can expect an amazing Neopolitan menu and a great Italian menu – a perfect combination for a tasty dinner (or lunch). The restaurant is truly incredible – from the interior design and amazing service to the divine food!
They use only ingredients from local farmers of Naples which are fresh and very high-quality.
Decided you want to go? Then we recommend you order the Casarecce Spigola e Limone (pasta, sea bass, lemon), or the Linguine alla "Nerano" (pasta, cheese, fried zucchini).
Also, don't miss out on their desserts – especially the La Pastiera (Ricotta-cheese cake with fruit and orange flower juice) and their Pistachio Ice Cream!
Address: 186 Kensington Park Road, London W11 2ES
Portobello Ristorante Pizzeria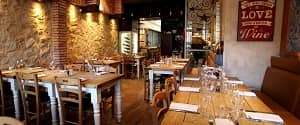 Portobello Ristorante Pizzeria really takes pizza seriously which is exactly why they are always extremely busy!
They prepare all dough for their pizzas – and the sourdough is slow-rising and it takes about 42 hours to prepare before it's ready to be baked. This shows how dedicated the team really is to provide all customers with the best Italian food in Notting Hill!
They use only fresh ingredients and they have a section of fresh seafood you can choose from!
Our team loves their Mozzarella Alla Milanese (deep-fried mozzarella, spicy tomato sauce, and homemade basil pesto), Linguine Al Frutti Di Mare (pasta, prawns, clams, mussels, squids, garlic, chilies, and cherry tomatoes).
When it comes to their pizzas – it doesn't matter which one you order because they all are amazing!
If you intend on going to Portobello Ristorante Pizzeria during the weekends, we strongly suggest you book a table in advance!
Address: 7 Ladbroke Rd, London W11 3PA
De Amicis Ristorante Italiano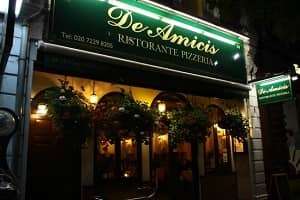 De Amicis Ristorante Italiano is an Italian family-run restaurant that serves Italian homemade dishes and was established in 1995.
This spot is very cozy, the food is incredible, and the staff is very friendly. You will feel welcomed the second you open the door!
Our team recommends you order their Calamari Fritti (fried calamari with sauce tartar), the Tagliatelle al Tartufo (pasta, cream and mushroom sauce, truffle oil), or the Speck e Tartufo Pizza (smoked ham, truffle sauce, mushrooms, and mozzarella).
Address: 14 Notting Hill Gate London W11 3JE
Arancina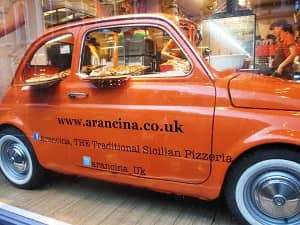 Another amazing restaurant that offers Italian food – pizza, lasagna, pasta, and a delicious tiramisu you need to try!
We strongly recommend ordering their Romana pizza (Bianca base, mozzarella, sausage,
potatoes, rosemary) or their Lasagna beef ragu!
Address: 19 Pembridge Road Notting Hill, London W11 3HG