There are so many incredible Mediterranean restaurants located in Wood Green that sometimes picking where to go and eat can be pretty challenging.
This is why our team decided to gather all of our favourite Mediterranean restaurants in Wood Green and share them with you – so you know which places are worth visiting!
Top 5 Mediterranean Restaurants In Wood Green According To Our Team
Il Bebo's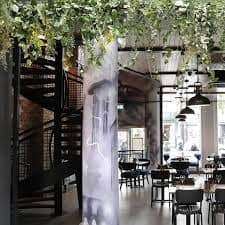 First on our list is Il Bebo's – an incredible Italian restaurant that not only offers incredible food but also excellent service. We also really enjoy going there because the venue is gorgeous – there are leaves falling from the ceiling, there are interesting chandeliers, and the interior design is super stylish!
In Il Bebo, you will be able to find all of your favourite Italian dishes! First, on their menu, you will find all of the starters and salads. We love their Pollo Pancetta E Avocado salad (chicken, bacon, avocado, cherry tomatoes, cucumber, mixed leaves with a homemade lemon and mustard dressing), the Nicoise salad (tuna, anchovies, capers, black olives, egg, cherry tomatoes, cucumber, lettuce, rocket leaves, homemade lemon and mustard dressing). We also always get the Bruschetta and the Crostini All Tonno starters (tuna, onions, garlic, parsley, red peppers, mayonnaise on ciabatta).
Their main dishes include a lot of pasta, pizza, risotto as well as other fish and meat main dishes that are incredible!
Address: 2 Cheapside, High Rd, London N22 6HJ
Ezra's Kitchen
Next on our list is another Italian restaurant we highly recommend you visit – Ezra's Kitchen! This is another place that is stylish and beautifully decorated, however, we will focus on their food – after all, it's the star of the show!
They not only have the main menu but they also have a special Vegan menu where you will find incredible starters and main dishes like their Penne Primavera (pasta, tomato sauce, cherry tomatoes, broccoli,
aubergine, basil, roasted peppers)!
If you do eat meat then their Main Menu includes not only a huge selection of your favourite Italian starters but also salads, pizzas, pasta, and plenty of other options like Pan-Fried Sea Bass and Creamy Chicken with Mushroom!
They also have an impressive selection of drinks – from wine and beers to unique cocktails!
Address: 185 High Rd, London N22 6BA
Paneri Taverna
The third Mediterranean restaurant on our list is Paneri Taverna – a traditional Greek restaurant serving fantastic food!
Enjoy traditional starters, an incredible Greek salad, kebabs, traditional Sheftalia (pork with cinnamon, onions, parsley), and much more!
If you don't eat meat then don't worry because you will still be able to enjoy a nice lunch or dinner – Paneri Taverna has plenty of vegetable main dishes like a Veggies Moussaka or a Halloumi wrap!
Address: 340 High Rd, London N22 8JW
Vrisaki
Of course, we couldn't make a list of Mediterranean restaurants without adding a second Greek place, right? Our next favourite spot in Wood Green is Vrisaki – a casual family-friendly place serving traditional Greek cuisine.
Now they are focused on quality over quantity which is why their menu is smaller than most restaurants, however, this shouldn't stop you from visiting. They offer delicious Taramosalata, Tahini, and Tzatziki as well as an incredible Seafood Salad (with squid, mussels, prawns, celery, onions, and green peppers).
All of these things go very well with their main dishes – especially the Pork Kebab, the Chicken Souvla, and the Mousaka!
Address: 73 Myddleton Rd, London N22 8LZ
Tarshish
And last but not least we have Tarnish – a beautiful Turkish restaurant that is pretty popular! If you love Mediterranean food then you have probably already visited this place and you can confirm that their food is divine!
Tarnish has two floors both of which are beautifully decorated. When it comes to their menu, they don't have only traditional Turkish food but also some unique dishes that are influenced by Mediterranean cuisine!
If you are wondering what we are talking about then here are some of our favourite creative dishes they offer – Calamari with chilli, lime, and passion fruit and Halloumi with
cherry jam!
And if you love desserts then you will be pleasantly surprised because they have amazing options you won't find anywhere else – for example, Profiterole (with white and dark chocolate) as well as a special white chocolate mousse with raspberry coulis, forest fruits, and almonds!
Address: 16, 20 High Rd, London N22 6BX